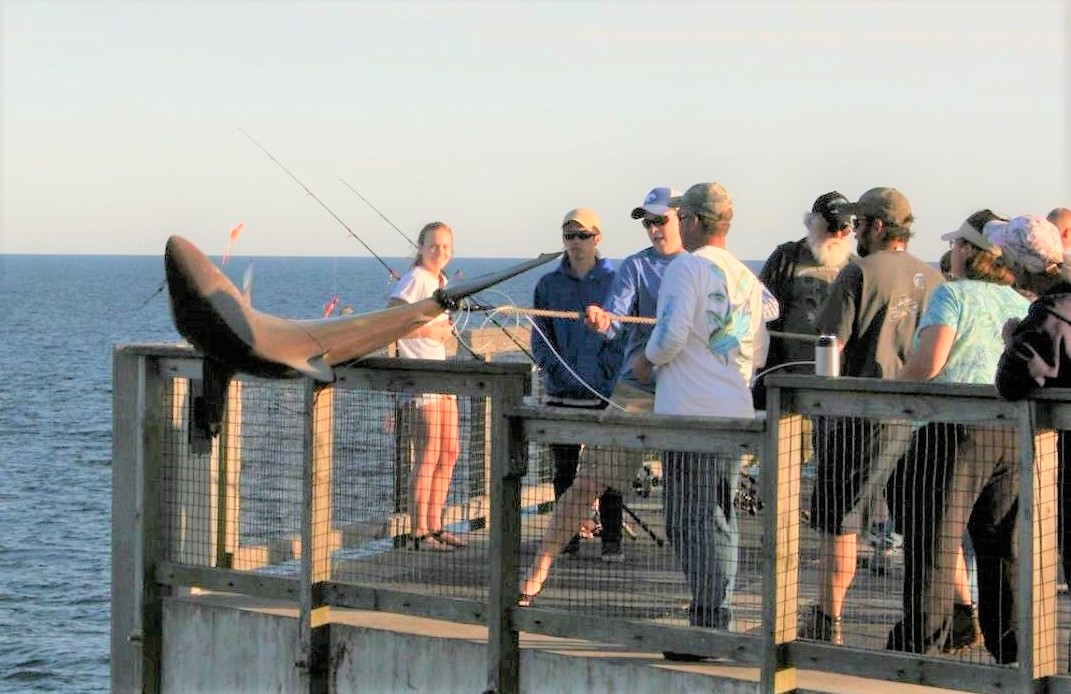 Photo by Romi White: Angler Brady White helps pull up a shark over the railing at Navarre Beach Fishing Pier
Hundreds of sharks have been spotted over the past few days, feeding just offshore in the Gulf of Mexico from Okaloosa Island to Pensacola Beach. Navarre Beach Fire Rescue Chief Danny Fureigh reports the sharks are still there, and he is urging swimmers to use caution, especially near Navarre Beach Fishing Pier.
"The beach is not closed. People just need to be aware of the sharks. That is their natural habitat," Fureigh said, pointing out the sharks have been spotted around the second sandbar — the deeper of two sandbars easily seen from shore. "They seem to be more prevalent around our fishing pier.
According to Furieigh, during water rescue training near the pier on Wednesday sharks were "all around" one of the trainees, so yesterday the crews moved their training session to Santa Rosa Sound.
Grayson Shallo, who regularly fishes on Navarre Beach Fishing Pier said he has observed tiger, black tip, spinner and bull sharks feeding on large schools of bait fish near the pier.
"Saw a ball of sharks with what had to be more then 150 in it. They then proceeded to flood through for five hours," said Shallo, who said the sharks were in "one tight ball swimming around together."
"They were so aggressive they'd swallow (bait and) whatever leader you had," Grayson said. "It was hundreds more than I've ever seen in the same period of time in (North Carolina)."
Terry Wallace, who oversees Santa Rosa County operations at Navarre Beach, said he has been monitoring the sharks and asked lifeguards to clear out the water when he spotted hundreds of them on Wednesday. "All of us who have fished here our entire lives have never seen anything like it," Wallace said.
However, local fishing expert James Broxson, owner of Broxson Outdoors, said swimmers need not worry.
"The sharks have always been here and likely always will be here. There have been several large schools of bait fish recently, and (the sharks) were just coming through, feeding on the bait fish. They don't mess with swimmers or surfers," Broxson said.