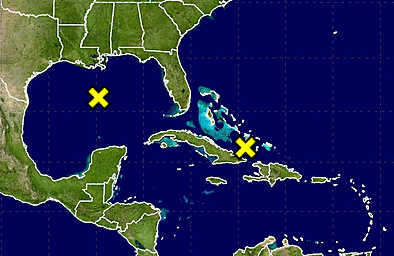 The National Hurricane Center in its 2 a.m. update reported a second tropical disturbance has formed over the Gulf of Mexico.
However, the forecast indicates high surface pressures in the area are not favorable for Disturbance 2 to development before it reaches Texas this weekend. There is only a 10 percent chance of development over the next five days.
And although NHC's overnight report indicated only a 30 percent chance of development for Disturbance 1, dubbed Invest 99L, conditions are predicted to become more than twice as favorable over the weekend or early next week, increasing to a 60-percent likelihood of development as the system moves into the eastern Gulf.
So Invest 99L is definitely a disturbance to monitor.
Santa Rosa County Emergency Management officials are reminding residents that it's never too early to prepare for a storm. Here's a link to their disaster preparedness website:  http://www.santarosa.fl.gov/emergency/disasterPreparedness.cfm
South Santa Rosa News will be posting regular NHC updates. The next update is expected at 7 am. CST.