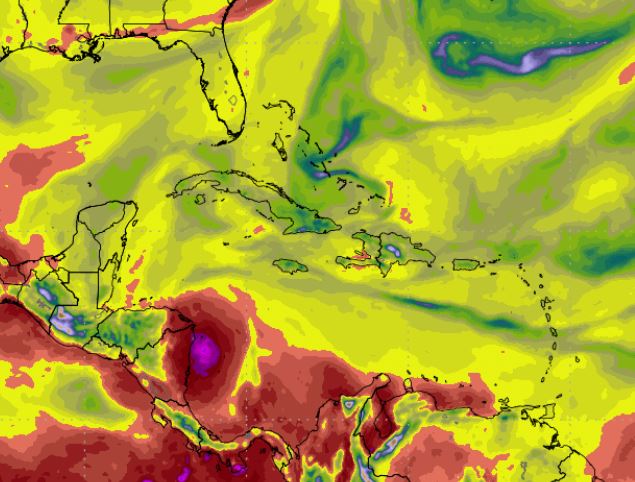 ECMWF computer model for September 18 indicates Hurricane Issac could potentially make landfall in Nicaragua (graphic by weathermodels.com)
THIS WEATHER UPDATE IS SPONSORED BY CARPENTERINSURANCEINC.COM

The National Hurricane Center in its 10 a.m. advisory showed that Hurricane Isaac maintains maximum sustained winds of 75 mph as it continues to move W at 14 mph.
Currently the storm is located about 1150 miles east of the windward islands.
"Additional strengthening is expected over the next day or two. Weakening is forecast to begin by the middle of the week as Isaac approaches the Lesser Antilles," stated NHC Forecaster Richard Pasch.
Isaac has a tight core with hurricane-force winds extending only 10 miles from the center of circulation. Tropical-storm-force winds extend outward to 45 miles, per the update.
"A westward motion with a slight increase in forward speed is expected through the end of the week. On the forecast track, Isaac should move across the Lesser Antilles and into the eastern Caribbean Sea on Thursday," Pasch said.