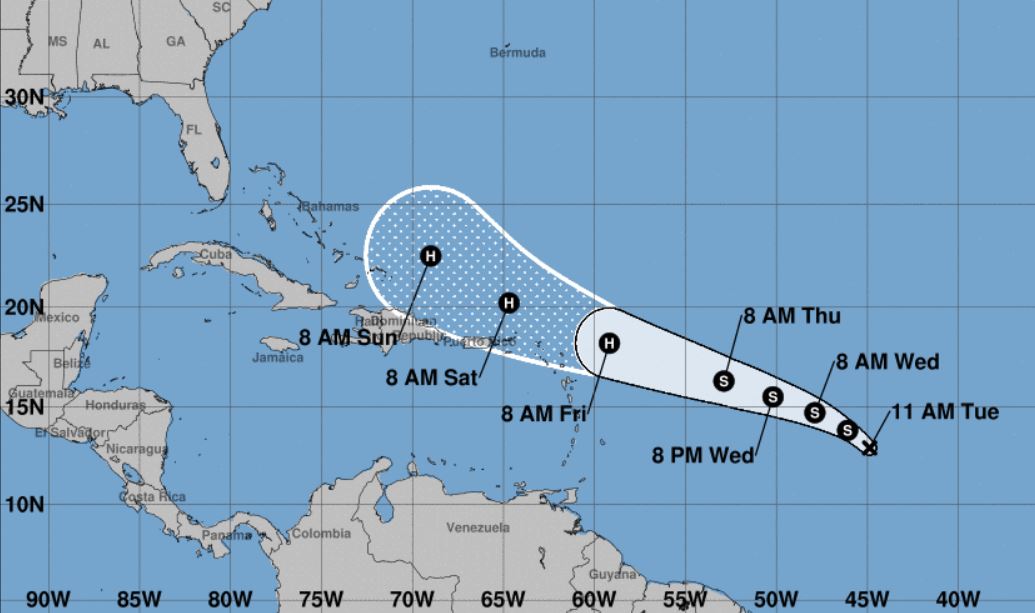 The National Hurricane Center's 11 a.m. AST update shows that a tropical depression with sustained maximum winds of 35 mph has formed and is forecast to develop into a hurricane in 72 hours.
Although it's too early to tell the eventual path the storm might take, NHC Senior Hurricane Specialist Daniel Brown stated those with interests in the Leeward Islands should monitor progress of the system.
"A strong deep-layer ridge to the north of the cyclone should steer the depression generally west-northwestward at a faster forward speed during the next few days. The track guidance is in relatively good agreement through 72 hours, and brings the cyclone near the northern Leeward Islands in about 3 days," stated Brown.
Per NHC, maximum sustained winds are expected to build to 45 mph tomorrow and 65 mph Thursday before potentially reaching hurricane strength on Friday. Expected 90 mph maximum sustained winds are forecast five days from today.
"The depression is forecast to move over gradually increasing sea surface temperatures within a favorable upper-level environment. The only negative factor for intensification appears to be some nearby dry air, but with low shear conditions expected, so steady strengthening is forecast during the next several days," Brown said.
EDITOR'S NOTE: This article has been updated to reflect the forecasted name of Jerry for this developing storm. Tropical Storm Imelda formed quickly today before making landfall in Texas, beating this system to the name.