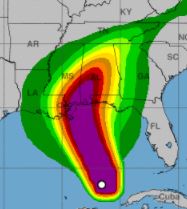 7 A.M. UPDATE: winds increased from 80 to 85 mph (original post below from 4 a.m. advisory has been updated)
Hurricane Nate has entered the Gulf of Mexico and continues its fast-moving track toward landfall tonight on the Gulf Coast. The storm's sustained winds are 85 mph, and its moving NNW at a brisk 22 mph.
The National Hurricane Center's 4 a.m., CDT advisory stated that atmospheric conditions favor some additional strengthening. Computer models also indicate Nate will become "a little bit stronger" just before landfall, NHC Forecaster Lixion Avila stated.
Additionally, Avila noted the storm is asymmetrical. "No hurricane force winds were reported west of the center."
Hurricane-force winds extend outward up to 35 miles from the center, and tropical-storm-force winds extend outward up to 125 miles, stated the advisory.
Avila said the current NNW track should continue for the next 24 hours. "After that time, the hurricane will recurve northeastward with additional increase in forward speed."
Landfall is expected somewhere between Grand Isle Louisiana to the Alabama/Florida border, per NHC.
LOCAL IMPACTS
Winds will increase today as feeder bands approach, bringing heavy rain. A tropical storm warning and hurricane watch remains in effect for Santa Rosa County. A flash flood watch is also in effect.
Additionally, a storm surge warning is in place. "The combination of a dangerous storm surge and the tide will cause normally dry areas near the coast to be flooded by rising waters moving inland from the shoreline," stated the National Weather Service.
NWS also warns of the high risk of "dangerous" rip currents through Sunday night — surf heights will increase to 6-10 feet. "Rip currents are life-threatening to anyone entering the Gulf,' stated NWS.
LOCAL ACTIONS
Gulf Power advises customers to "prepare to be without power for extended periods of time" if tropical storm or hurricane-force winds and storm surge occur as predicted. "Gulf Power knows when your power is out. However, you can call 1-800-487-6937 if you have any questions," stated the utility in a press release.
Santa Rosa County Schools Superintendent Tim Wyrosdick cancelled school activities for Saturday evening and will announce by 6 p.m. this evening whether or not public schools will be in session on Monday.
Santa Rosa County Sheriff's Office is expected to close Navarre Beach Bridge when sustained winds reach 39 mph.
Santa Rosa County Emergency Management is recommending evacuation by 3 p.m. today for those within Evacuation Zone A (Navarre Beach and low-lying areas along bays and rivers). It may be unsafe to leave after that time. To check your location visit www.santarosa.fl.gov/knowyourzone
A pet-friendly emergency shelter will open at 8 a.m. today at the Milton Community Center, located at 5629 Byrom Street in Milton. Photo identification and personal/pet/medical supplies should be brought. Those with special needs must pre-register by calling (850) 983-5360. Transportation assistance to the emergency shelter is available by calling (850) 983-4636.
NEXT COMPLETE ADVISORY WILL BE ISSUED AT 10 A.M., CDT.