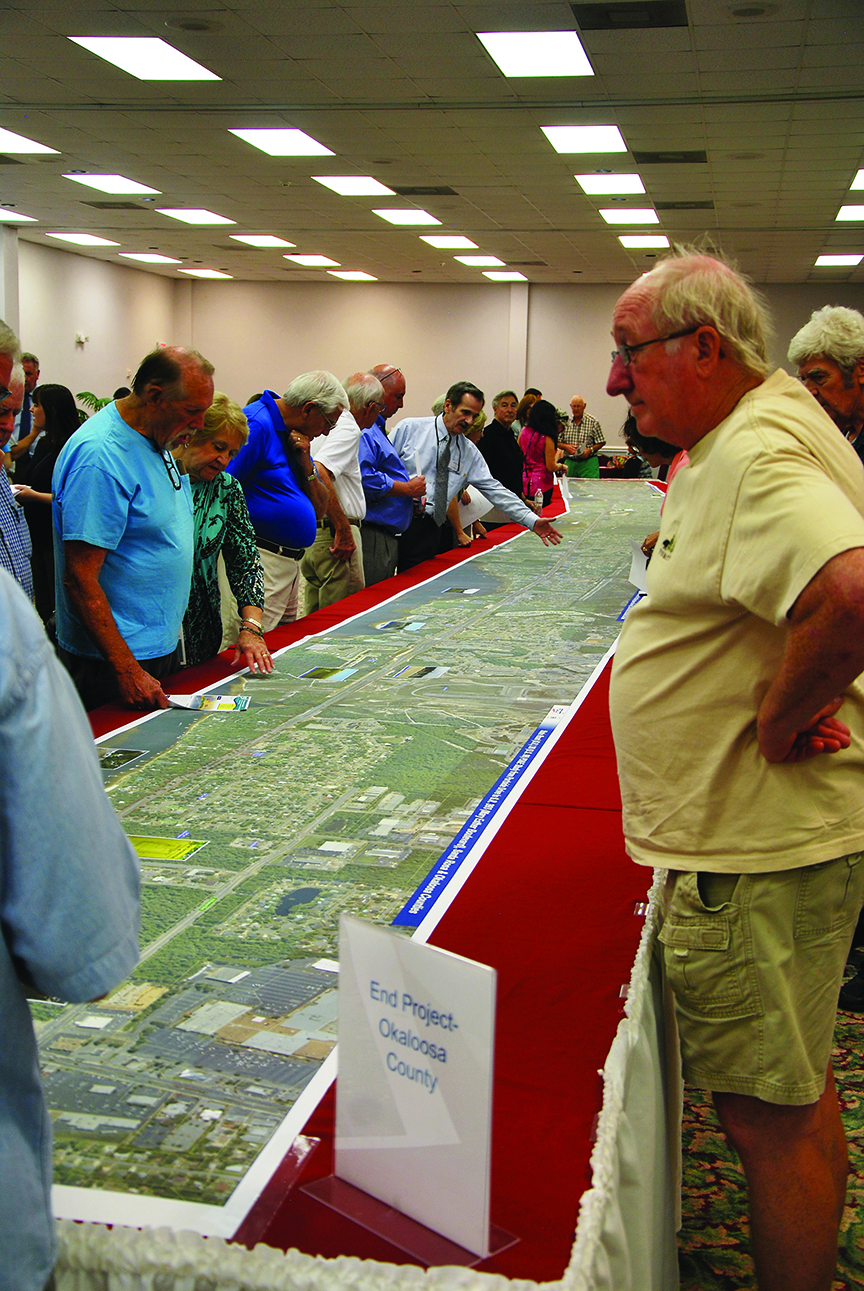 Tuesday night, dozens of locals scanned across overhead shots of over 25 miles worth of roadway that could potentially be widened within the next decade.
That roadway is better known as congested U.S. Highway 98.
The Florida Department of Transportation held two public input meetings this week to get feedback on potential roadblocks this project could have if its approved down the line. The proposed project is looking at widening Hwy. 98 one block east of Avalon Boulevard (SR281) all the way down to Mary Esther Boulevard in Okaloosa County.
Most of the residents gathered at the input meeting claimed the project would literally be impossible since most businesses butt-up against Hwy. 98.
"I don't see how they are going to do it," said Gulf Breeze resident Cole Maple. "Just look at all of these businesses that are right up against the highway. They'd have to put their parking lots in the back of the buildings. That's not good for business."
FDOT District 3 spokeswoman Tanya Branton said just because FDOT is proposing the project and is looking to do a Project, Development & Environment (PD&E) Study doesn't mean the project will happen.
"In about 10 months we're going to come back and get more feedback from the public," Branton said. "Public input is key to the PD&E process. We're encouraging the public to make suggestions and comments."
Several FDOT representatives were on hand to get feedback from the public, most of which was mixed.
Joel Simpson said the project could have its benefits and drawbacks.
"I think it can't be done. Yes, it's great that this could help relieve congestion on that stretch (of roadway), but how are they going to be able to accomplish that with so many businesses and homes literally sitting on the edge of the highway now?"
Branton said the meeting was only held to get feedback on the widening proposal. There were no actual maps showing where the roads will widen and what businesses and homes this widening proposal could effect. That is what the PD&E Study will determine.
Branton said those who were unable to attend and want to give feedback can do so by visiting www.nwflroads.com. From the main page, click on "Future Projects" and find the Hwy. 98 project listed under Santa Rosa County. From there, you can look over the PD&E Study process and also give feedback on this particular project from that page.