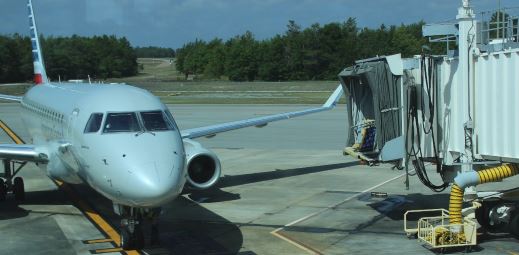 Photo courtesy Okaloosa County Information Office
The inaugural regular direct flight of an American Airlines jet from Washington D.C.'s Reagan National Airport to Destin-Fort Walton Beach Airport took place Friday, May 4.
The inaugural flight, which has been planned for months, means Eglin's military personnel and civil servants now have a hassle-free, daily-direct commute to Washington D.C.
"This is a long sought after flight as we have so many military personnel and contractors who have a need to travel to the Washington DC area on a daily basis. It is also welcomed by those who wish to visit and enjoy the beauty of our Nation's Capital," said Commissioner and Board appointee to the County Aviation Board, Carolyn Ketchel.
The new two-hour flight is expected to bring in another 50,000 visitors to the Emerald Coast and will open up a direct market for local tourism businesses to encourage the Mid-Atlantic Seaboard to visit, according to the Okaloosa County Public Information Office.