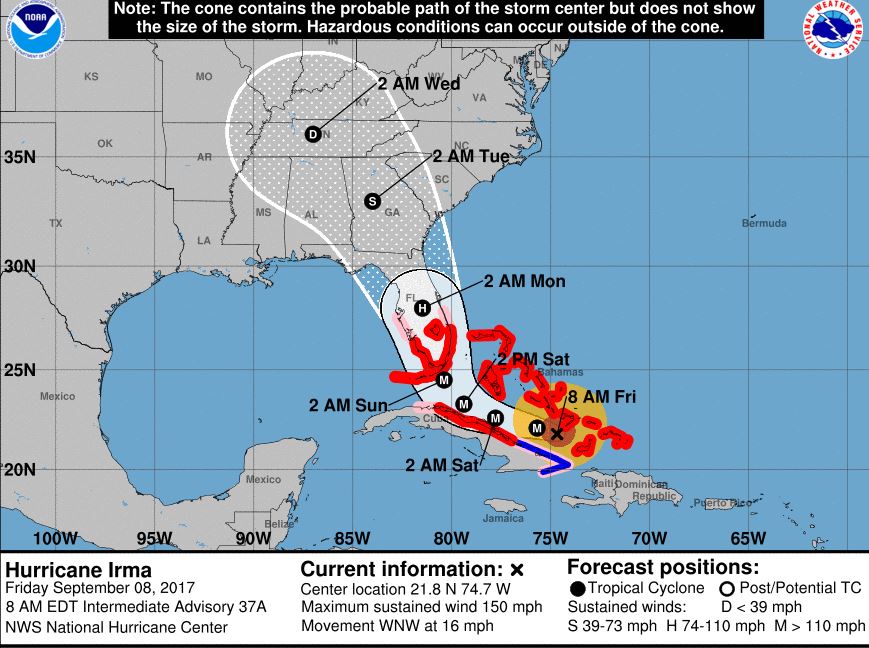 Hurricane Irma, still a dangerous Category 4 storm, has not made a northward turn as soon as expected, resulting in its projected path again being shifted toward the west.
According to the National Hurricane Center, the new forecast track has "minor westward adjustments."
"Latest track lessens severe impacts for North Carolina, parts of South Carolina, and is worst case for Florida up to Atlanta," said Meteorologist Jim Cantore this morning via Twitter.
The NHC 7 a.m. CST update showed Irma has sustained winds of 150 mph and continues to move WNW at 16 mph.
There is still some difference among computer models on when the projected northward turn will occur.
Irma continues moving toward the west-northwest near 16 mph, and this motion is expected to continue for the next day or so with a decrease in forward speed. A turn toward the northwest is expected by late Saturday. On the forecast track, the eye of Irma should move near the north coast of Cuba and the central Bahamas today and Saturday, and be near the Florida Keys and the southern Florida Peninsula Sunday morning, stated the NHC update.
"Severe hurricane conditions are expected over portions of the Florida peninsula and the Florida Keys beginning Saturday night. Irma is likely to make landfall in southern Florida as a dangerous major hurricane, and bring life-threatening storm surge and wind impacts to much of the state," stated NHC Senior Hurricane Specialist Jack Beven.
Florida Governor Rick Scott on Thursday said Irma will be "much worse and more devastating" than 1992's Hurricane Andrew, the most destructive hurricane to ever hit the state.
Irma is forecast to remain in a favorable warm water, light shear environment for the next 36-48 hours. Computer models shows a slow weakening during this time, but Irma is expected to remain at least a Category 4 hurricane until landfall in Florida, per the update.
According to Beven, following landfall, a "fairly quick decay" in maximum winds is expected due to land interaction and increased shear, although Irma's large wind field is likely to still produce hurricane-force winds over a large area.
NHC says two factors could impact the storm's intensity: another eyewall replacement cycle could cause weakening then re-intensification, and some computer models indicate the track could move over or close to the Cuban coast and cause the storm to be weaken than currently forecast.
So far NHC has issued Hurricane Warnings for southern Florida, the Florida Keys, Lake Okeechobee and Florida
Bay and Hurricane Watches northward into central Florida.
The next NHC update will take place at 10 a.m. CST.