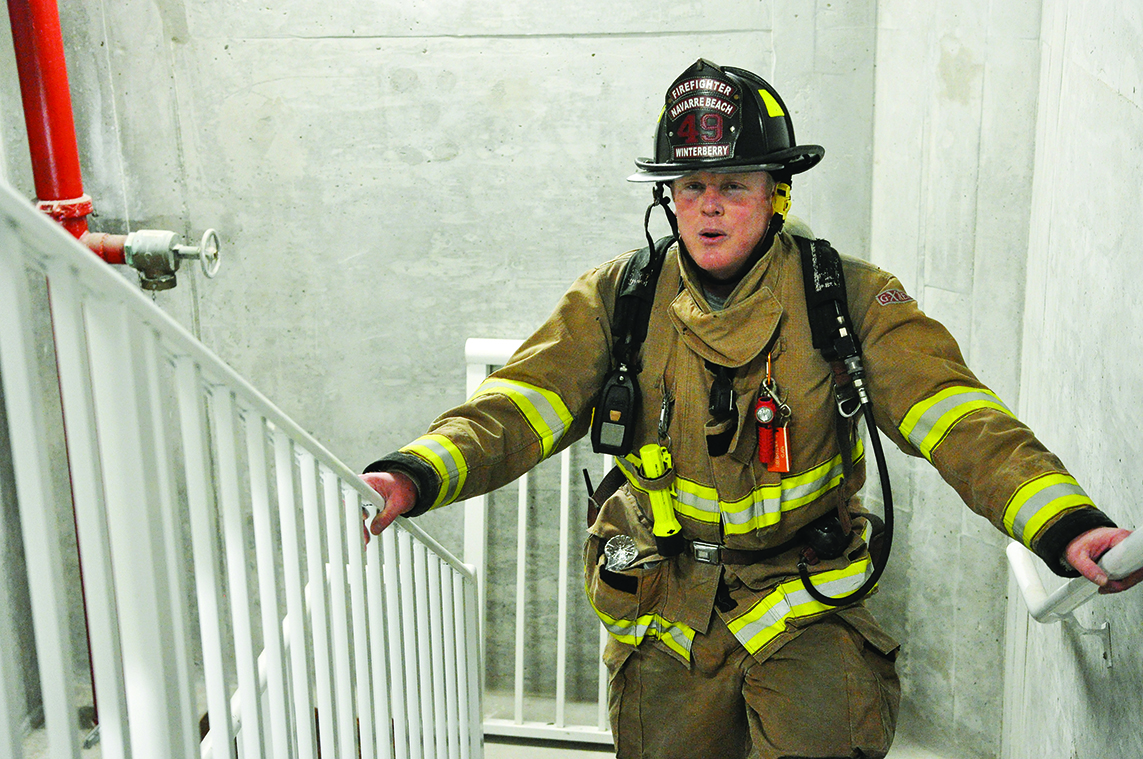 It's always like clockwork.
Almost 99 percent of the time when someone is given the option to trek up a flight of stairs or take the elevator, they take the latter.
But firefighters with Navarre Beach Fire Department on Captain Sean Hughes' watch have no choice.
They get the hard end of the stick and take the stairs.
Every shift with Hughes includes a workout program where firefighters travel over to Summerwind Condominiums West and climb up 15 stories— roughly 6 times.
If you're doing the math, that's 90 floors. Three thousand steps up and down.
On Monday, Hughes was accompanied by firefighter Grant Winterberry, who claimed the task ahead was not an easy one.
"I was doing this (exercise) before (Hughes) was," Winterberry said, who has served well over a decade at the fire station both full and part time. "But he's better at it than I am."
The exercise is based off of stair climb fundraisers put on by the National Fallen Firefighters Foundation. The fundraisers help raise money which provides assistance to the surviving families and co-workers of the 343 firefighters who made the ultimate sacrifice on September 11, 2001.
Participants in the memorial stair climbs pay tribute to a FDNY firefighter by climbing or walking the equivalent of the 110 stories of the World Trade Center.
"Panama City hosted one years ago. It's a great way to condition and train myself," Hughes said. "I always did it myself and then I started including it in our shift."
Firefighters at Navarre Beach Fire Department work 48 hours shifts— two on, four off.
"We climb it twice a shift each morning," Hughes said.
But those who live at Summerwind West know that these firefighters don't show up to their morning training ritual sporting basketball shorts and a wife beater.
"We wear all of our turnout gear," Hughes said.
All 50 plus pounds of it.
"Believe me, I've weighed it…I know," Hughes said.
Winterberry said his gear weighs roughly 90 pounds when he trains. With his body weight and firefighting equipment on, the firefighter is carrying well over 300 pounds on his calves.
"When I get on a scale it says 'error'," Winterberry laughed. "That's how much this gear weighs us down."
Part of the turnout gear is a jacket that's lined with a vapor shield to protect the firefighters. That vapor shield keeps heat out of the jacket, but also prevents body heat from escaping. Hughes says since their body heat can't escape, it makes the workout more intense than just running with a regular jacket on.
"Consequently, the ability to dissipate heat in that jacket is nullified by that same vapor shield. When you start working hard in that gear—even outside—you generate a lot of heat and you can't cool yourself. So you have to condition your body," Hughes said.
To make matters worse, the stairwell the 9 firefighters on Hughes' shift train in has no windows. So the firefighters don't get relief from the breeze coming off of the Gulf of Mexico or the sound.
"It's like exercising in a sauna," Winterberry said as he started on his second go around. "You can only imagine what this is like in the summer. I'm struggling now and it's nice in here."
The concrete in the stairwell made it a cool 60 degrees at the condominium Monday morning. But the cool-to-the-touch concrete was nothing without a breeze blowing through the stairwell.
"You gotta be careful with this equipment. If you're feeling fatigued and you miss a step, you're getting a face full of concrete," Winterberry said as sweat dripped down his face.
Hughes said he doesn't push his men too much during the exercise in case they get an emergency call halfway through their ritual.
"The reason I don't push myself is we always have to be ready for a call. I have to save a little bit of what gas I have left," Winterberry said.
Hughes said that he chooses to train at Summerwind West because of the large parking lot and the ability to exit the stairwell and take the elevator down if his crew is called out to an emergency.
"You never know when you're going to get a call. And we've gotten them before when we were doing this," Hughes said. "The main reason we chose that building was because of the parking lot. It gave us the ability to get our large truck in the parking lot. Since they have a big parking lot, it's easy to access. So if we get a call, we're able to leave quickly."
Winterberry said to get his mind off of the exercise, he usually thinks about the day ahead and allows his mind to wander. Another firefighter in Hughes' shift listens to music.
"The trick to this is being consistent," Winterberry said. "I've been gone the last 10 days, and it definitely feels hard getting back into it now."
The fire captain typically monitors his workout each time. As Hughes wrapped up 5 sweeps of the complex, his heart rate was 176.
"I usually do 6 full sweeps. It takes about 42 to 45 minutes," Hughes said. "But as it gets hotter, we do a lot less."
Winterberry said typically he goes through about 2 to 3 bottles of water during his exercise in the summer and makes sure to stay hydrated and prepared for the workout.
"Sometimes it helps to have breakfast in the morning, and sometimes it doesn't," Winterberry said. "You just never know how you're going to feel once you get half way into it."
EDITORIAL
There's not a lot that can be said about my workout routine.
It's nonexistent. Enough said.
So when I was casually asked by Navarre Beach Fire Department Captain Sean Hughes to participate in a training exercise at the Summerwind Condominiums, I immediately felt fatigued. I agreed to participate, but I knew staircases weren't my cup of tea.
When I go home to Washington, D.C. and trek through Dulles Airport, I take the escalator and ignore the stairs. Just like everyone else.
I knew this was no ordinary training exercise.
I was climbing 15 stories. Since I'm all about numbers, that's a little over 250 steps. And I had a feeling I was going to be counting each one.
It was a cool 60 degrees out and the wind was blowing gently off of the sound when I arrived at the condominium.
But that wind wasn't going to be keeping me cool where I was going. There were no windows where I was headed. Or any draft for that matter.
The staircase I was climbing was completely sealed off from the outside.
When I entered the stairwell with longtime NBFD firefighter Grant Winterberry and Capt. Hughes, the first thing I noticed was the eerie darkness. The stairwell was dimly lit with one fluorescent bulb at each turn. The all concrete stairwell made it feel much cooler inside than it was outside. But that wouldn't matter. At least not once I was 4 floors up.
I had come somewhat prepared that morning. I cut my hair, for one.
Less drag.
And I had my Puma tennis shoes on.
That's about the extent of my preparation.
I was sporting jeans, a polo, and a smile. But that smile didn't last once I shuffled past the fifth floor.
The absence of air flow and the subpar temperatures inside the stairwell started to take a toll early.
Sweat started dripping from my forehead about halfway to the top. But who was I to complain? I wasn't carrying the 50 to 90 pounds worth of equipment that was strapped onto Hughes and Winterberry.
After reaching the top of the stairwell for the first time, I glanced outside at the partial view of the gulf from an open door. But that slight breeze was short lived, and I found myself skipping back down the 15 stories shortly after. Hughes eventually powered ahead of me, giving me time to talk to Winterberry, whose heavy breathing echoed in the empty stairwell as sweat ran down his eyelashes.
"I'm hurtin'", he said reaching for one of the three water bottles he brought for the trip.
I walked with Winterberry through my second go around. By the time I reached the bottom of the condominium complex the second time, sweat had formed a "V" pattern on the outside of my shirt.
"Only 4 more of these to go", I thought.
Being familiar with the exercise and his body, Winterberry reached the bottom on the complex on his second go around and knew what was coming.
"I try to slow it down right about now," he said, breathing heavily. "I try to rest every 5 floors or so from here on out."
Winterberry was no stranger to the exercise. He had been doing it longer than his captain had at Summerwind.
And his experience showed as he gave me words of advice.
"The trick to this is being consistent. It really is intense," he said, taking a short break, as he leaned on one of the railings. "You can only imagine what this is like in the summer."
Over the years, I've met a lot of people who don't take opportunities to stop and thank a firefighter for their service. That's why I chose to slow my pace and walk with Winterberry, and to participate in the exercise. To see how it felt firsthand to train with people who charge head first into dangerous situations, instead of running away from them.
"It's tough," he said taking a swig of water. "You never know how you're going to feel."
I eventually allowed myself to rush past Winterberry and joined up with Hughes on his fifth trip up to the top.
Nearly twice my age, the fire captain pushed well ahead of me on the last go around. He occasionally glanced back to make sure I wasn't sprawled out on the concrete. For the last ten or so minutes, I noticed myself glancing at the numbers on the door of each floor.
You know you've had enough when you're counting down to the end of something. But before I knew it, it was over.
Words of encouragement from Hughes and aggressive sweat marks down the front and back of my shirt carried with me out to the fire truck.
Firefighters don't do these exercises to just stay in shape. They do them to be prepared.
And the cost of being prepared sometimes comes in the form of sore legs and minor dehydration the next day, which I found out the hard way.
It just goes to show what these men and women at fire stations around the world go through to ensure they're prepared for any task that may lie ahead of them.
The next time you're sitting on the couch watching reruns of Seinfeld, remember the drive these men and women have. The drive to take on any task that lies ahead of them.