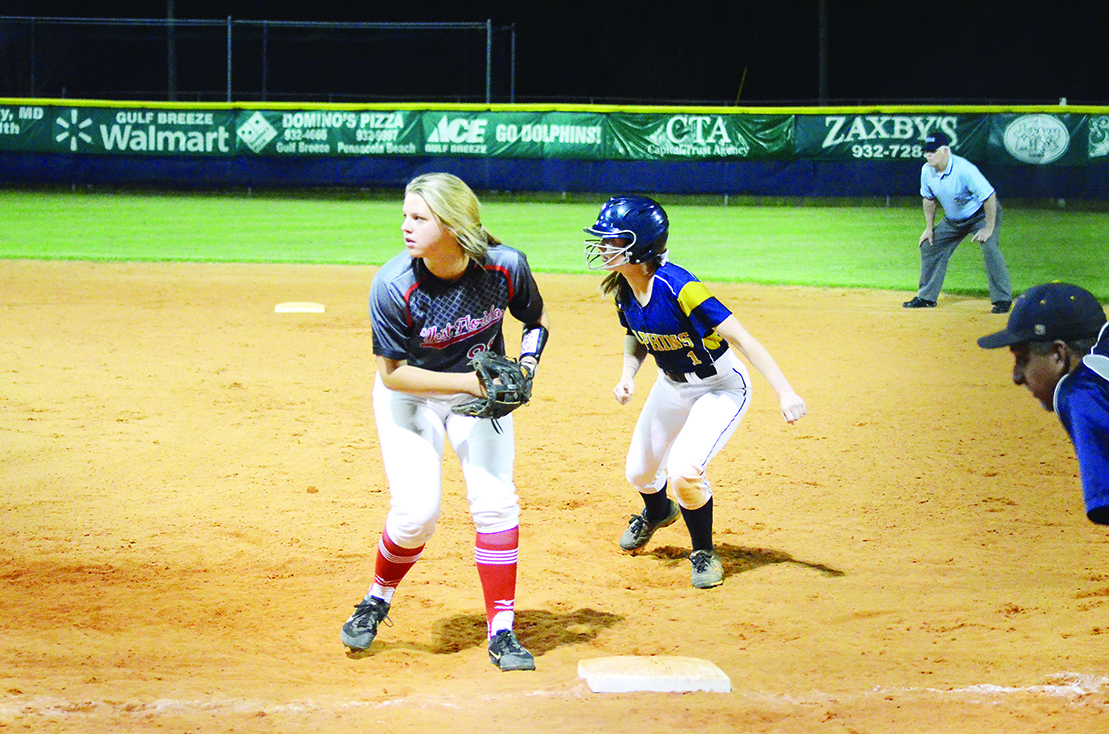 The West Florida High School of Advanced Technology softball team extended its undefeated district record back on April 7, cutting short Gulf Breeze High School's comeback and ending the match 5-4 after the Lady Dolphins pulled-back two runs in the seventh inning with two outs on the books.
Jade Halfacre was an anchor at pitcher for the Lady Jaguars, staying in for all seven innings and throwing 19 first-pitch strikes. Halfacre also struck-out five of the Lady Dolphins' batters and only allowed five hits from Gulf Breeze during the game.
Sarah Shearman and Elle Branton shared the mound for Gulf Breeze, with Shearman pitching for the first four innings before handing over the reins to Branton for the remaining three. The two pitchers combined for a total of 27 first-pitch strikes and 8 strike outs, but had trouble stopping the West Florida players from getting on base.
The Lady Jaguars pounced into an early 3-0 lead after getting on the board in the top of the first and third innings with runs from Amanda Klemm, Mckenzie Mcbride and Ealon Pyle. Gulf Breeze only managed to get one hit in the bottom of the fourth inning in response, while Halfacre struck out two of the other three batters and threw Reagan Raley out at first base.
Branton kicked-off the sixth inning with a strikeout, signaling a change in the Lady Dolphins playing style — which looked much sharper despite a couple of errors that allowed Keyana Norman to round third base after the ball was overthrown at first and second. Norman ran for home plate but was tagged by the glove of Gulf Breeze catcher Taylor Baker for West Florida's second out of the inning.
When Gulf Breeze took over at bat in the bottom of the sixth, the team trailed the Lady Jaguars 4-0 after Klemm crossed home plate for her second run of the game off of a double from Brianna Morgan. Riley Robinson was able to get onto base first for Gulf Breeze, but made it home after Baker ripped a ball into center field in between the outfielders for a triple.
Madison Patrick was up to bat next and hit a nice high ball into left center field and allowed Baker to get home safely while making it onto base for the first time that night. Taylor's run cut the Lady Jaguars lead in half to 4-2 and made it seem possible for Gulf Breeze to rally for a late comeback.
Kenzie Wiley's winning score in the seventh inning proved to be the difference after Delaney Batte and Amber Doyle's runs in the bottom of the inning left Gulf Breeze a point shy of the lead.