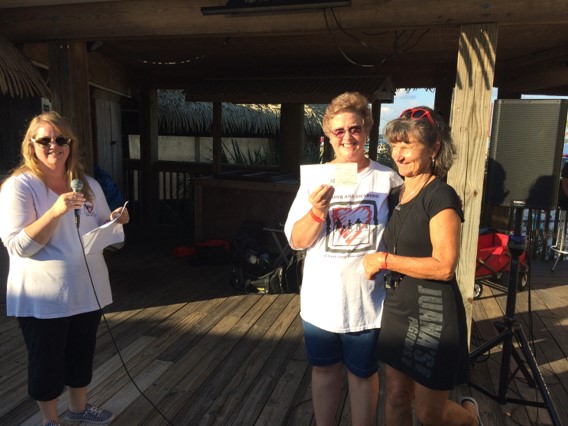 Brenda Smith, vice president of Caring and Sharing, Ann Thompson, president with Marie Rudzki, manager of Juana's Pagodas. Submitted photo.
The 27th annual Juana's Pagodas charity chili cook-off is scheduled for October 10. The event benefit Caring & Sharing of South Santa Rosa County.
"We were unable to have an event last year, due to COVID-19, however in the past the raffle, chili cook-off competition, and volleyball tournament typically raises over $3,000 to help kick-off the organizations fundraising for holiday distributions," said Ann Thompson, Caring & Sharing president. "Marie Rudzki and the folks at Juana's are a delightful and dependable team allowing the annual fundraiser to take place where people can enjoy the beach, volleyball, chili and salsa while raising dollars for locals in need."
The event starts with chili and volleyball registration at 11 a.m. on October 10 at Juana's Pagoda and Sailor's Grill on Navarre Beach. Chili set up is open until noon, with tasting from 2-4 p.m. Registered attendees are the judges who choose the top three in five chili categories and salsa. At 4 p.m. award winners of the chili & salsa are presented, and next raffle prizes are pulled by ticket, you must be a present ticket holder to win a prize.
To taste chili or enter a chili pot there is a $10 donation per person at the door. Registration for the volleyball tournament and entrance to chili tasting is $15 per person. Chili competitors must bring precooked, warmed chili in a crock pot, with ladle, and/or salsa. Categories include Fowl Chili, Double Burner, Bean There Farted That, Carnivore Amore, and Judges Choice, plus salsa.
"The funds raised go towards non-perishable food purchases for Caring and Sharing clients," said Robyn Philips, Caring & Sharing public liaison. "To spice it up this year we're adding to our celebrities assisting with the 'Judges Choice' award. Here are a couple name drops; Captain Corey Mayhew, Navarre Beach Fire Rescue and Brian Marshall (previous member of Creed). For more information on the cook-off visit: Juanas Pagodas Chili Cookoff 2021
How to get assistance this holiday season
Caring & Sharing is a 100-percent volunteer organization. There are no paid employees. It aids families and the elderly in South Santa Rosa County over the holidays, at a point when, typically, more assistance is needed to make a rough period a little less stressful on families and caregivers.
Those in need of its services must register with the organization to receive assistance. Registration dates for 2021 are 2-4 p.m. October 16 and 17 and 5-8 p.m. October 18 at Liberty Church, 6006 Gulf Breeze Parkway, located next to Meredith Lumber on U.S. Highway 98 in Gulf Breeze.
For more about Caring & Sharing, to gain assistance, volunteer, and/or donate please call 850-396-0321 and a volunteer member will return your call. Visit the website: https://santarosacares.org/ or Facebook: https://www.facebook.com/Caringandsharingsantarosacounty