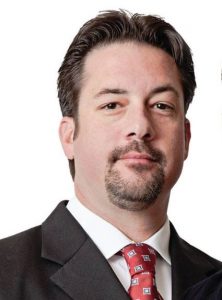 Navarre attorney Keith Kilpatrick of Kilpatrick & Newlin law firm on Tuesday litigated the first juried trial in Santa Rosa County since the COVID-19 quarantines began last spring.
Kilpatrick's client had been charged on September 9, 2019 with felony aggravated assault with a deadly weapon. But she was found not guilty.
"I am excited because there is closure in her life, and she can put it behind her," Kilpatrick said.
However, Kilpatrick pointed out that arguing cases in the nearly 100-year-old courthouse under current COVID-19 restrictions presented some difficulties.
"The most challenging part was introducing and explaining exhibits to the jury, who were spread out 6 feet apart from one another," he said.
Kilpatrick said with COVID-19 restrictions in place the current courthouse only accommodates a total of 25 jurors from which to pick.
"This will be a problem for the more emotional and serious cases where a jury cannot be fair and impartial and get stricken for cause leaving even less for a jury pull," he said.
A new roughly $48 million courthouse facility is currently under construction on Avalon Boulevard with an expected completion date of June 2021.