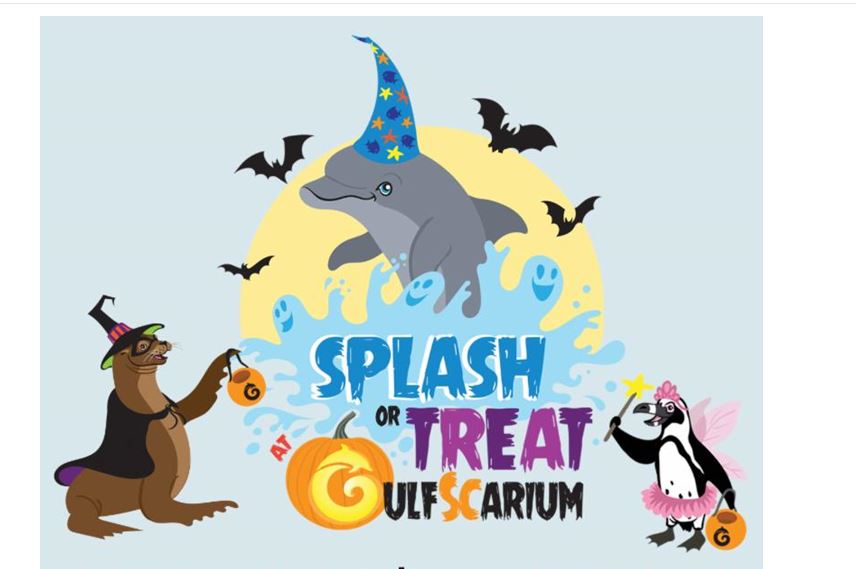 Gulfarium Marine Adventure Park today announced its schedule for the 2018 Splash or Treat.
Halloween festivities begin on Saturday October 27th from 9 a.m. to 3:30 p.m. Kids, 12 and under in costume, receive free admission (limit of two free kids per adult).
Attendees will be able to trick-or-treat for candy around the park, jump in the bounce-house, locate the skeletons on the annual skeleton scavenger hunt and more.
The fun continues Wednesday, October 31st with an after-hours experience from 4-6 p.m. During this time, all adults are admitted for free. Children in costume, 12 and under, will receive admission into the park for only $5.
Attendees can enjoy trick-or-treating around the park, and celebrate GulfScarium with an evening dolphin show as well as a sea lion show.
A full schedule of the events follows:
OCTOBER 27, 2018 – (9 a.m. – 3:30 p.m.) FREE admission for children in costume, limit two children per adult (ages 3-12)
9:00 – 3:30 Skeleton Scavenger Hunt
10:00 – 2:00 BounceHouse Seal Harbor
10:15 Otter Chat Otter Den
11:00 Sea Lion Show Shoreline Theater
11:30 Trick-or-Treating Around the Park
12:00 Dolphin Show Dolphin Theater
1:00 Sea Lion Show Shoreline Theater
12:30 Harbor Seal Chat Seal Harbor
1:30 Trick-or-Treating Around the Park
2:00 Dolphin Show Dolphin Theater
2:20 Underwater Pumpkin Carving Living Sea
2:30 Trick-or-Treating Around the Park
3:00 Penguin Chat Penguin Preserve
3:15 Otter Chat Otter Den
3:30 Sea Lion Show Shoreline Theater
OCTOBER 31, 2018 – (4pm-6pm) ADULTS FREE, $5 admission for each child in costume
4:00-4:30 Trick or Treating around the park
4:30-4:45 Dolphin Show Dolphin Theater
5:00-5:30 Trick or Treating around the park
5:45-6:00 Shoreline Training Show Shoreline Theater
According to the Gulfarium, trick-or-treating around the park will be held in 30 minute intervals. Events are not to be combined with any other coupon or discount. Limit 2 children per adult on October 27th. Have questions? Call 850.243.9046 or email info@gulfarium.com