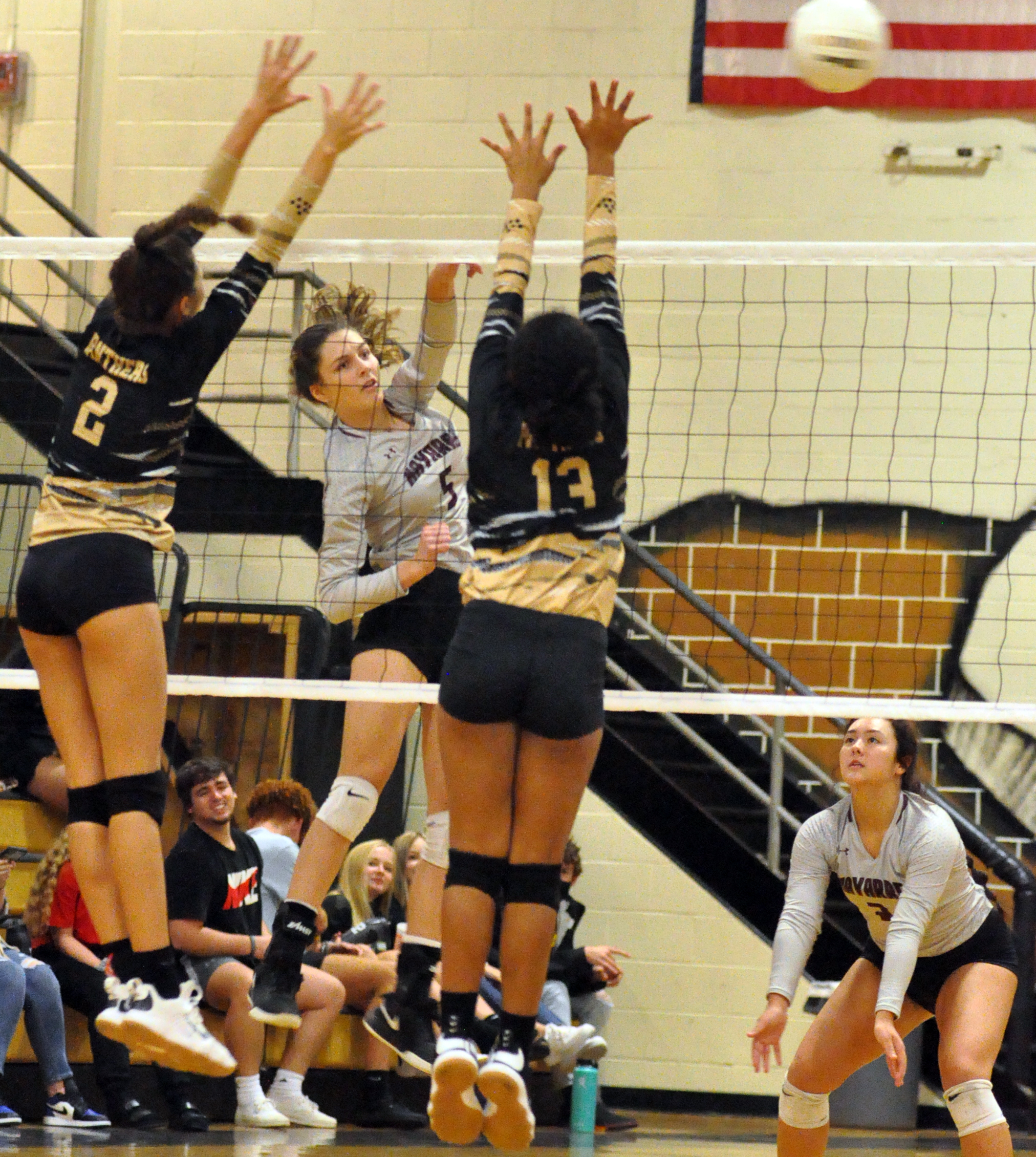 Sophomore outside hitter Kyra McKelvey takes a big swing Monday against the Panthers. (Photo by Stuart Camp)
The Raider volleyball squad nestled a commanding win Monday over the Milton Panthers between three-set losses to Gulf Breeze and Crestview in their opening week.
Head coach Ryan Davenport admits that three games – considering the short prep time for the season – cannot be an accurate estimation for the season ahead. But he's optimistic and quickly acknowledged, "We've got a lot of work to do," after Tuesday's loss to Crestview.
Honestly, the statistics show they're in there battling. Scoring over the three matches show a one-point deficiency – 188 points by opponents to 187 by Navarre.
The team met Gulf Breeze for their season opener a few days after Hurricane Sally waterlogged their momentum.
"I feel like the hurricane put a dent in our flow, because we were sailing upwards," said senior Aubrey Walls. "We just have to work on closing the job."
They fell 25-19, 25-14, 25-20 at home September 19 against the Dolphins, but bounced right back with a sound 25-5, 25-21, 25-12 victory Monday at Milton. And then made the long trip Tuesday to Crestview for a 25-22, 25-17, 25-20 loss.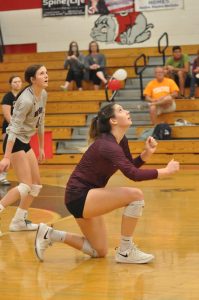 Senior Aubrey Walls eyes the trajectory of her dig against Crestview. (Photo by Stuart Camp)
"We did a lot better today than we did on Saturday," Walls said after the Crestview match. "We were better at finding holes in the other team."
Veteran Crestview coach Matt Potts relied on a stingy defense and wily serving strategy to defeat the Raiders.
"We tried to keep them out of system as much as possible by our serves," he said. "Actually, I was impressed by Aubrey (Walls), 'cause I was working her and she passed really well. But they were out of system a lot, and we were able to capitalize off easier balls."
Overall, the players remain undaunted.
"I just know that since there is a lot of seniors, everyone is really close," said senior setter Sammy MacFarland. "Everyone is really positive. Playing wise, I think we just need to communicate better and build confidence, because the skill is there."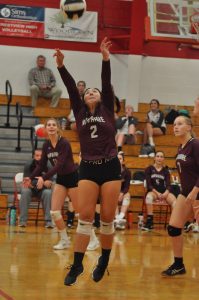 Senior setter Sammy MacFarland distributes the ball to hitters Tuesday against the Crestview Bulldogs. (Photo by Stuart Camp)
The team continues it's abbreviated 14-game schedule against the Dolphins 11 a.m. Saturday in the Gulf Breeze gym, then at Pensacola Catholic Monday. Their next home game is Wednesday against Milton. First serve for both the Catholic and Panther rematch is 6:30 p.m.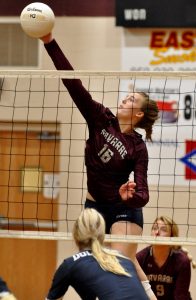 Sophomore hitter Hailey Snider takes an uncontested rip at the ball against Gulf Breeze last week. (Photo by Stuart Camp)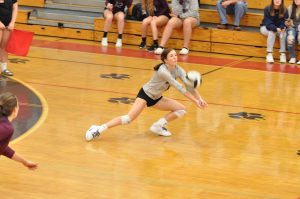 Senior libero Sarah Shoffner digs the ball Tuesday against the Crestview Bulldogs. (Photo by Stuart Camp)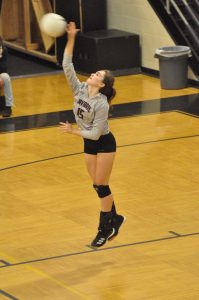 The Raiders scored in droves against Milton with Freshman Julia Irmen at the service line. (Photo by Stuart Camp)
Lady Raiders varsity volleyball squad prepares to play (Photo by Stuart Camp)