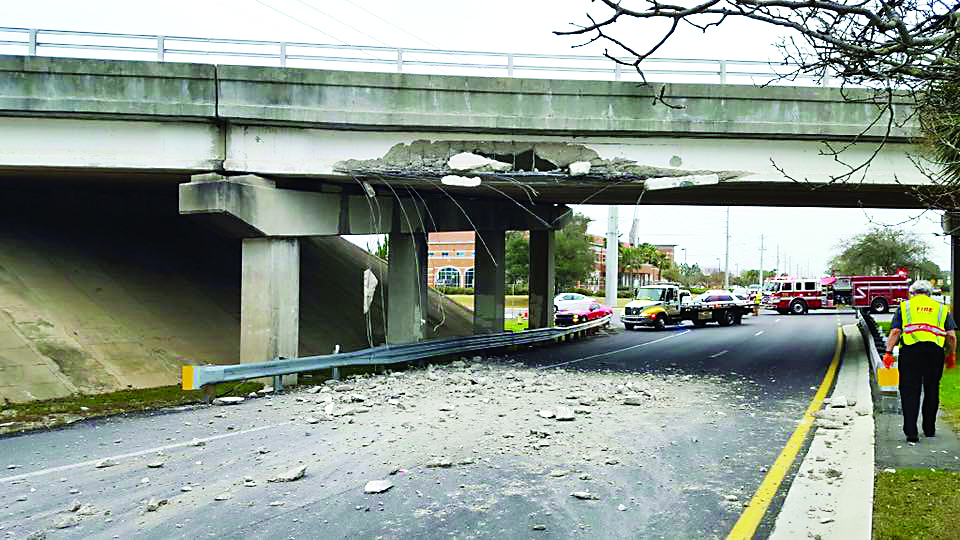 Lane closures are expected in the City of Gulf Breeze while Florida Department of Transportation contractors work to fix damage done to the State Road 399 overpass back on March 11.
A tractor trailer clipped the inside of the last beam on the overpass as the driver was heading westbound on Highway 98.
Since then, FDOT and the city have been working side-by-side to figure out how to repair the damaged structure, which was built back in the early 60's and widened in 1970.
"They're just expected to do repairs to the bridge," said FDOT District 3 spokesman Ian Satter.
Repairs to the beam, and nothing more, Satter said. And those repairs could take at least a month to finish.
Late last week, FDOT announced that repairs to the overpass would start in mid-April and that crews would be removing the damaged beam and also making minor repairs to the overpass' bridge deck that was damaged during the collision.
The repairs are expected to take place from 8 p.m. to 5:30 a.m. in order to avoid heavy traffic pileups.
The construction process timeline is weather permitting.
Satter said the project is expected to cost roughly $1 million. But that chunk of change won't be coming out of taxpayers' pockets.
"That money will be recuperated from the company responsible for hitting the bridge," Satter said. "I'm sure the company has insurance so it will be repaired at no cost to taxpayers."
Satter told South Santa Rosa News that the cost of the SR399 repair is high because of the extent of the work that has to be done, and also because the work has to be done in a short amount of time.
"It's almost an emergency contract. Because of the overnight work and the quick turnaround, it's costing a lot more," Satter said.
During the construction process, both westbound lanes of Hwy. 98 will be closed off and from Shoreline Drive to just east of SR399, westbound traffic to be diverted to the eastbound lanes of Hwy. 98.
Westbound Hwy. 98 access to SR399 will be closed during the construction process. An on-site detour will be set up during construction to direct traffic to turn left on Daniel Drive, left on Shoreline Drive and then right on eastbound Hwy. 98 to access S.R. 399 via the at grade on ramp.
Access from westbound Hwy. 98 to SR399 will be open to traffic from 5:30 a.m. to 8 p.m. during the construction dates. Southbound SR399 traffic will be shifted to use one of the northbound SR399 lanes.