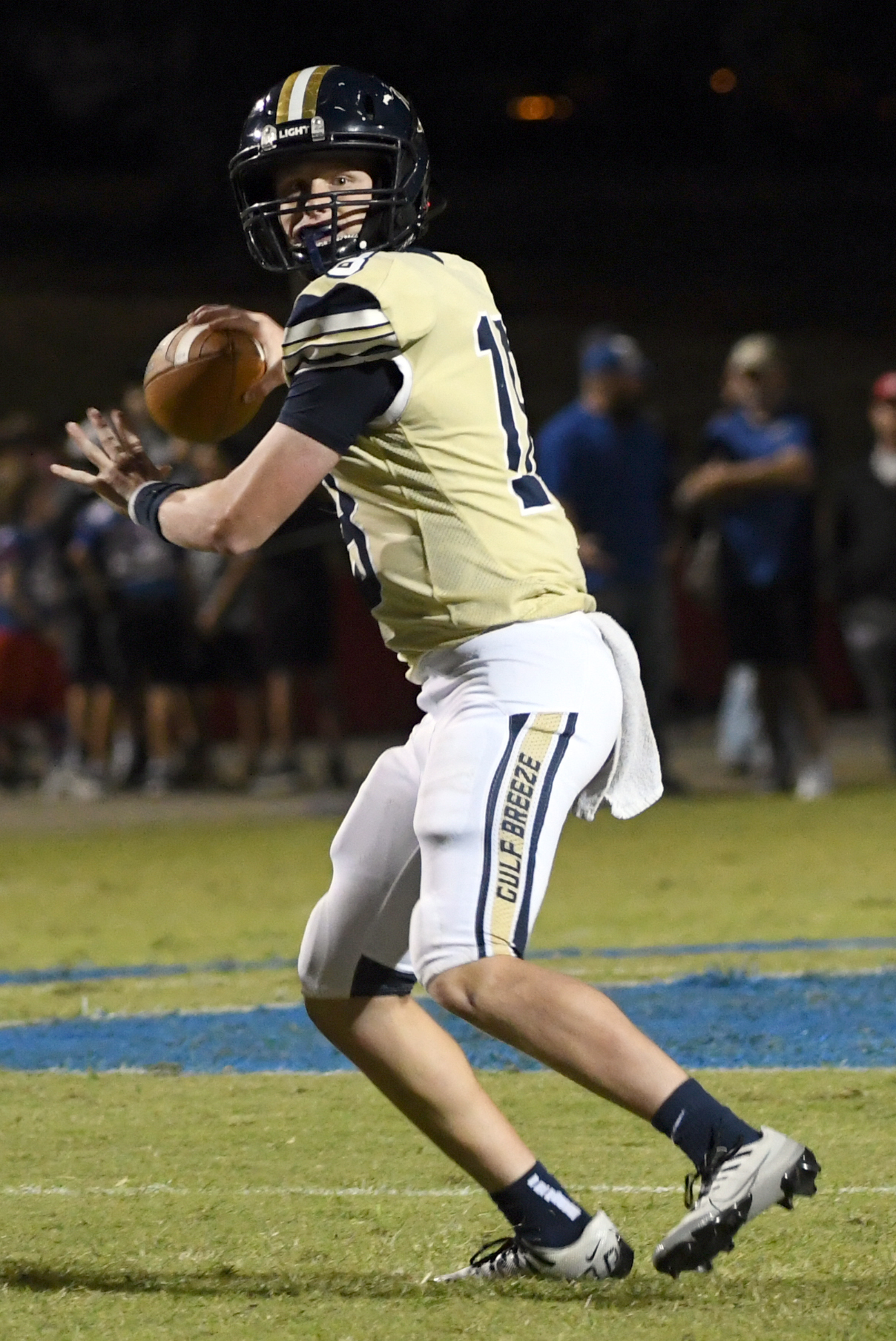 Battle Anderson threw for 411 yards against the Pace Patriots, including two touchdowns, and ran for another in the 35-28 district victory. (Photo by Stuart Camp)
Everything seemed to be late Friday night for the Gulf Breeze Dolphins: arrival, kickoff, and game-winning touchdown.
With 32 seconds left on the clock, Dolphin quarterback Battle Anderson found Bryson Rouillier unguarded on the visitor's sideline for a 45-yard touchdown breaking a 28-apiece tie, which capped a 95-yard drive and secured the victory for the Gulf Breeze.
"It was a broken play; nobody was on me. I saw the corner go. I settled down in the green grass. I waived my hand at Battle … and I just took it," Rouillier said of his sixth reception of the game.
It was a huge night for the offense, Anderson threw for 411 yards on 23-33 passing. He accounted for two passing touchdowns – both to Rouillier – and a bruising, 10-yard rushing touchdown. Troy Coughlin gained 208 yards on 30 carries, and he scored two TDs of his own.
Everything started late after the Gulf Breeze team bus got stuck in traffic after a vehicle fire on the roadway temporarily closed their route to Pace. Kickoff was delayed until 8:10 p.m., scheduled for 7:30.
Despite the late start, scoring commenced quickly. The Patriot's opening drive ended with quarterback Nick Simmons completing a short dump pass to finish off a 65-yard drive, which was mainly fueled by a running attack.
The Dolphins replied on their first possession with a 67-yard scoring toss from Anderson to Rouillier.
Pace's ball carriers extracted big chunks of land from the Gulf Breeze defense in the first half. Simmons' runs, along with Ben Tyner and Xakery Wiedner, carried the Patriots to a 21-21 halftime score.
"We didn't have the best first half … they were running all over us," said Dolphin linebacker Dakota Watson, who ended the night with seven total tackles.
Two Gulf Breeze defenders tallied double-digit tackles in the game. Cole Hepworth led all with nine solo tackles and three assists. Turner Mclaughlin finished with 10 total – six solos and four assists.
Defensively, Gulf Breeze held the Patriots to minimal gains in the second half, except for a long, scoring pass play from Simmons to Wiedner in the third quarter. But the offense immediately responded with a retaliation strike, this time Coughlin galloped for 44 yards to reach pay dirt and restore the tie.
"(We) probably should've thrown it more, but we thought we could run it," said Patriot head coach Kent Smith. "We just got behind the chains a little bit."
This is the Dolphins' first come-from-behind victory of 2022.
"We talked about being tenacious, and they (defense) were. They got after it," Dolphin head coach Bobby Clayton said. "The game plan was to run it right at them, take what they give you throwing wise, and when we had the big ball – take it."
Gulf Breeze's signal caller has now surpassed 1,200 yards after six games with 77 completions. After receiver Brock Clayton suffered a game-ending injury, Anderson found sophomore Jake Hooten on chain-moving plays. He ended the night with five receptions and 68 yards.
"I was ready," said Hooten, who had only two receptions for 13 yards before this game. "We saw that the corner was playing off, we'd audible to a backside-hitch to get some yards. First down."
The Dolphins (4-2) are now 2-0 in district play. This week, Gulf Breeze rests on their bye week. They'll return to the gridiron Oct. 21 with a district clash at Tate.