Three elected officials last night co-hosted the first-ever District 2 Town Hall meeting between state and local leaders, following recently approved post-Census redistricting, which extended Florida House District Two's boundaries into Tiger Point, Midway and Navarre.
Previously the District 2 boundary stopped in the Oriole Beach area. The redistricting was approved during the 2022 legislative session and subsequently upheld by the Florida Supreme Court.
Now Florida House District 2 Representative Alex Andrade represents all of Santa Rosa County south of U.S. 98 and all of the Santa Rosa County peninsula west of Bergren Road.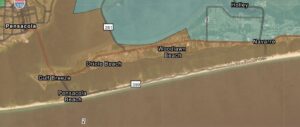 After being elected in 2018, Andrade started hosting town halls in other areas of his district. He told attendees he plans to do the same in Navarre at least once per year.
Andrade teamed up with co-hosts County Commissioner Dave Piech and School Board Member Carol Boston, who both represent the Navarre area on their respective boards,
Around two dozen people attended last evening's event, which took place at St. Sylvester's Church and lasted until all questions were addressed, taking up roughly 90 minutes.
The trio of leaders sat down at tables and opened the floor for discussions, which were sparked by questions from attendees, who expressed concerns over issues such as infrastructure, traffic, tourism and schools.
Sharon Spicer, who works for a Navarre realtor, said she is new to the area and wanted to come out to learn more about local issues. Spicer said she was surprised to be able to sit down and have open, casual conversations with the leaders. "That really made it more personal," she said, adding that she plans to attend future town halls.
Tamara Fountain, a Navarre Beach business owner, expressed a desire for statute changes to enable tourism revenues to be more easily allowed to fund much-needed infrastructure projects.
Currently those revenues, for the most part, must be used for promoting or attracting tourists.
"I think we're good," Piech said, agreeing county tourism advertising has boosted related revenues, which could potentially top $6 million for the first time this fiscal year.
Fountain also pointed out that tourism revenues could potentially be utilized to leverage grant funding.
Accordingly, Piech said he plans to work with Andrade and others to explore amending those requirements in a manner similar to how local leaders worked together to successfully increase the threshold to receive Small County Operating Program, enabling Santa Rosa to keep receiving millions for roadway improvements after its population surpassed the maximum allowed.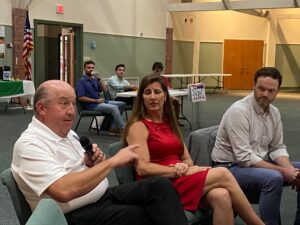 On the subject of traffic and roadway improvements, there were multiple questions about U.S. 98 and East Bay Boulevard improvements.
Tiffany Bates, who serves as the community liaison for Emerald Coast Regional Council, attended the meeting and helped answer questions about traffic. Bates also reminded citizens about the Florida-Alabama Transportation Planning Organization's desire to receive citizen input on its five-year plan. More details about that are available via ecrc.org.
Boston said Edgewood Drive improvements, which are underway, will provide sidewalks near East Bay K-8 school.
Debbie Gunnoe, a Navarre grandparent, expressed concerns over East Bay K-8 using "equity" as a characteristic to promote, suggesting it had a Critical Race Theory connotation.
However, Tiffany Spooner, president of East Bay's Parent-Teacher Organization disagrees. "I think she is reaching…at East Bay we have our leading qualities that spell out LEADS. Leadership, Equity, Accountability, Discovery and Services. These are all wonderful traits that our school tries to nurture…Critical race theory is completely different from this quality trait."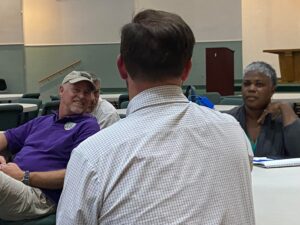 Andrade said he worked to pass House Bill 7, which was signed into law and protects Floridians from woke indoctrination, which had been taking place in other counties.
Boston, when questioned about the existing shortage of teachers and lack of future teachers pursuing the field, stated that the district is adding four teacher training academies at high schools, including Navarre, and plans are in place for two at Santa Rosa middle schools.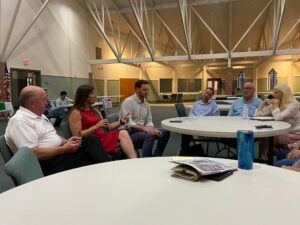 She also mentioned some other restrictions being lessened to allow more teachers, who might otherwise not be qualified, to enter the field.
For example, the state now allows veterans and their spouses to receive a five-year voucher to teacher without having first earned a degree.
Andrade said the state continues to work to provide teacher pay increases statewide, stating Florida Governor Ron DeSantis had approved $800 million this session on the heels of a $500 million boost in 2020.
Additionally, Andrade noted the state not only ended Common Core but also end-of-year standardized testing, which will be replaced during the 2022-2023 school year with progress monitoring.
Both officials expressed optimism that the combined efforts would help attract more teachers.