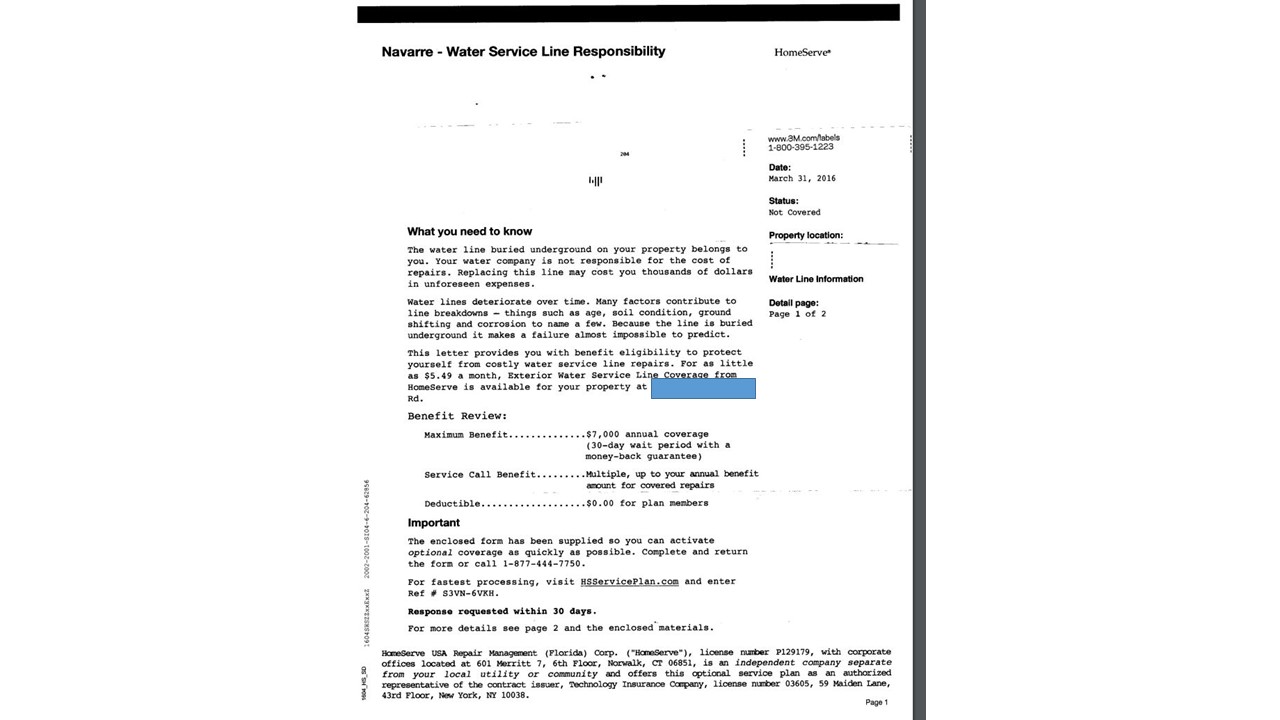 During last night's Holley-Navarre Water System board meeting, former president Daryl Lynchard made fellow directors aware of a solicitation letter being sent to local water customers by a Connecticut-based company — not the local utility.
The letter from HomeServe USA Repair Management reads "Important Information about Your Water Line" and solicits new customers to purchase insurance coverage for breaks in underground water lines. The letters include the addressee's house number and lists the property's status as "not covered."
The letter goes on to state "Your water company is not responsible for the cost of repairs. Replacing this line may cost you thousands of dollars in unforeseen expenses" and encourages addressees to purchase protection for water line breaks "for as little as $5.49 a month."
"It's def something that's not from Holley-Navarre Water System," said Paul Gardner, general manager of the local utility.
Gardner told South Santa Rosa News he was given a copy of the letter earlier this morning. "I think it's a concern there's someone out there trying to scare my customers," he said. "If they have any questions they can always call up here. Personally I think it should be turned over to the Sheriff's Office for investigation," he said.
HomeServe USA Repair Management, based in Norwalk, Connecticut, does have a disclaimer at the bottom of the first page of the two-page letter. That disclaimer states HomeServe "is an independent company separate from your local utility or community and offers this optional service plan." It also states HomeServe is an authorized representative of Technology Insurance Company based in New York City.