Tom Petska has been lighting up his home with tens of thousands of Christmas lights since moving to Tiger Point six years ago, and he's started using the effort to aid local charities.
Last year the Petska's collected donations for Gulf Coast Kids' House. This year, Tom's teamed up with the Ice Flyers, and Big Brothers Big Sisters of Northwest Florida is the team's charity for this season.
Additionally, half of the donations collected through the effort will go toward the family of late Ice Flyer player Dan Buccela, who lived in Gulf Breeze.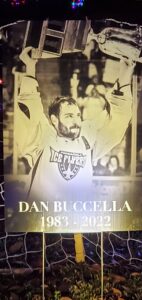 Buccella passed away in November after battling an aggressive form of leukemia.
"He left behind a wife and two sons," Petska said. "We never know what to expect for donations. I am hoping that this year we get to $5,000, praying for more)."
Donations are being handled by the Ice Flyers via the team's shop, using a QR code. The Ice Flyers will disperse the donations in early January.
Petska, who has been putting up light displays for a decade, says his 45-minute custom-programed lighted show, features 16 songs, ranging from classic Christmas to jazz.
The show runs nightly, starting from Thanksgiving and lasting through January 2 at his home, located at 1338 Tour Drive. The lights are on roughly four hours during weekdays, from dusk until about 9 p.m. On Friday and Saturday nights he leaves them on until about 10:30 p.m. However, he does turn off the display during heavy rain or high winds.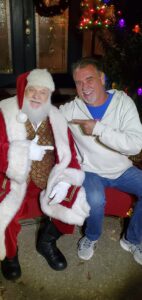 Petska, pictured on the right, during a December 18 visit from Santa which attracted roughly 100 people.
For more information check out: Christmas Lights On Tour