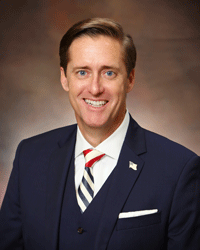 Santa Rosa County Commission Chairman Rob Williamson will be one of several special guest chefs at the first-ever "Lunch for a Cause" hosted by the Greater Navarre Chamber.
Other local celebrity chefs for the event include Santa Rosa County Sheriff's Office Spokesman Sgt. Rich Aloy and Tony Alexander, Greater Navarre Area Chamber CEO.
"The event is an opportunity for us to showcase members, such as Samurai restaurant, and also support local non-profit groups like Weekend Food Program, which is also a member," Alexander said. "This will be a regular program of our's moving forward," he said.
The event will take place starting at 12 noon on Thursday, April 20 at Samurai Japanese Restaurant in Navarre, sponsor of the event.
The fundraiser benefits the Weekend Food Program of Navarre, which provides nutritional supplement for hundreds of local students on free and reduced lunch programs. For more information about the program visit www.weekendfoodprogram.org.
Tickets are $20 each, but seating is limited to 80 people. Only 16 tickets remain available for purchase via Eventbrite.com.