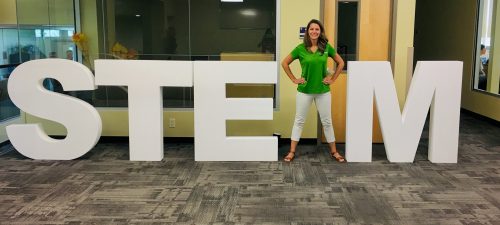 Pictured: Marsha Harp, West Navarre Primary
Recently, a team of educators from Santa Rosa joined more than 50 fellow educators from around the country for STEMersion 2019. Presented by Discovery Education, the global leader in standards-aligned digital curriculum resources, engaging content, and professional learning for K-12 classrooms, STEMersion 2019 was an immersive, five-day professional development experience focused on supporting STEM/STEAM education. This professional learning experience was held June 25-29 at Weber State University in Ogden, UT.
Educators attending STEMersion 2019 from Santa Rosa include:
April Ballard, a Grade 3 Innovator from SS Dixon Intermediate,
Dana Chatwell, a Science Innovator from Woodlawn Beach Middle School,
Leah Cohran, a Science Innovator from Gulf Breeze High School,
Traci Fischetti, an English/ Language Arts Innovator from Navarre High School,
Marsha Harp, Grade 1 Innovator from West Navarre Primary and
Jeff Knapp, a Math Innovator from Navarre High School.
Santa Rosa's participants in STEMersion 2019 were selected by district leaders to participate in a variety of experiences that added valuable new resources and skills to their STEM/STEAM toolkit. In addition, STEMersion provided an opportunity for participants to connect, collaborate, share resources, ideas, and strategies for integrating the latest technologies and digital curriculum resources into STEM/STEAM instruction.
"We are very proud of the educators from our district that participated in STEMersion 2019, and our community is inspired by their commitment to using the latest technologies and digital content to build STEM experiences that engage all our students," said Director of Innovation and Professional Learning, Michael Thorpe. "The students of Santa Rosa will benefit tremendously from the new approaches to STEM that were taken away from this great professional learning opportunity."
In addition to learning from a variety of STEM/STEAM education experts, Santa Rosa's participating educators took part in a series of interactive workshops led by the Discovery Education STEM/STEAM professional development team. During these informative workshops, participants learned about topics such as how to incorporate the 21st century skills of collaboration, creativity, critical thinking and communication into STEM/STEAM education and about how to create a vibrant culture of STEM/STEAM teaching and learning in their school system. Santa Rosa's participants also collaborated with fellow educators on a variety of STEM/STEAM projects, and shared ideas and best practices with their peers.
"The participation of Santa Rosa's educators in STEMersion 2019 demonstrates the district's outstanding leadership and commitment to using the latest technologies and innovative teaching strategies and techniques to improve STEM/STEAM education and student achievement," said Cindy Moss, Vice President of Global STEM Education for Discovery Education. "The participation of these individuals in STEMersion 2019 will help improve student engagement across Santa Rosa County and support their effort to prepare all learners with the critical skills they need to succeed beyond the classroom."
After participating in STEMersion 2019 the innovative educators will return to Santa Rosa equipped with new strategies and techniques for transforming STEM/STEAM teaching and learning that they can share with their peers across the district. In this way, they will continue to have an impact on STEM/STEAM education that reaches far beyond their participation in STEMersion 2019.
For more information about Discovery Education's digital curriculum and professional learning services, visit www.discoveryeducation.com, and stay connected with Discovery Education on social media through Facebook, follow us on Twitter at @DiscoveryEd, or find us on Instagram and Pinterest