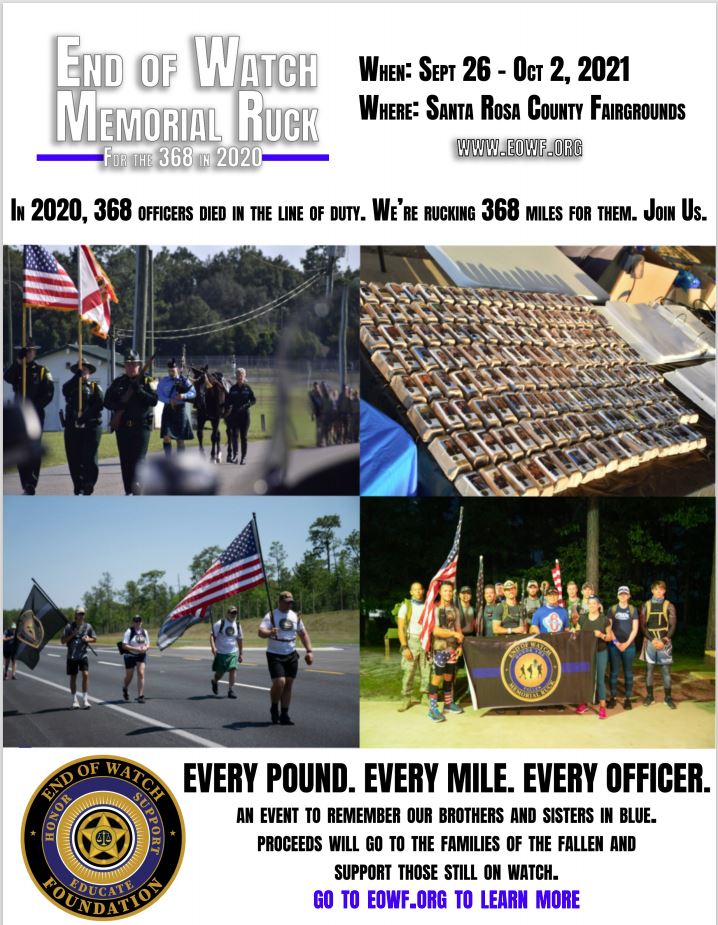 The End of Watch Memorial Ruck Returns to Santa Rosa County September 26 – October 2, 2021. Teams of athletes will work as teams to ruck 368 miles over the course of 7 days while carrying one-pound weights bearing the name of an officer who died in the line of duty in 2020.
"Every day, men and women in law enforcement across this country leave their homes and families to answer the call of service to a greater mission." said Caleb Cook, the founder of the event. "Tragically, this call to service can require a heavy sacrifice. This sacrifice is not only made up by the dangers that come with violent situations, but also the cumulative stress from the burden of the badge."
Cook continues by explaining, "The End of Watch Memorial Ruck is designed to reverently honor the fallen and support those still on watch, while also building a stronger community between law enforcement and civilians through education and awareness."
The End of Watch Memorial Ruck (#EOWMR) is in its fourth year and is organized by the End of Watch Foundation (EOWF). Funds raised by the event will go to support the mission of the End of Watch Foundation.
To learn more about the EOWF Mission visit http://eowf.com/mission.
This year athletes will follow a closed, outdoor course at the Santa Rosa County Fairgrounds.
Athletes (ruckers), volunteers, and sponsors interested in the event are encouraged to visit www.EOWF.com for more information.
REGISTRATION PRICING SCHEDULE:
● Early Bird: May 15 – July 14 $60
○ Additional legs During Early-Bird Period $40 each
● Regular: July 15 – August 31 $75
○ Additional Legs During Regular Period $50 each
● Late: Sept 1 – Sept 25 $90
○ Additional Legs $50 each
● Registration Closes September 26th
ATHLETE REGISTRATION INCLUDES:
● Commemorative shirt (Some shirt sizes may not be available if the athlete registers
during the late period.)
● Commemorative challenge coin
● Drinks/Snacks during the event
IMPORTANT:
● We ask that athletes refrain from registering for back-to-back legs.
● If you want to register a team as part of an organization, please email us at
events@eowf.org. We will work with you directly on organizing your team's participation
in the event.
AVAILABLE LEGS FOR REGISTRATION:
● Leg 1 – 15 Miles, Starts 9/26 at 0700
● Leg 2 – 15 Miles, Starts 9/26 at 1330
● Leg 3 – 21 Miles, Starts 9/26 at 2000
● Leg 4 – 18 Miles, Starts 9/27 at 0430
● Leg 5 – 15 Miles, Starts 9/27 at 1200
● Leg 6 – 6 Miles, Starts 9/27 at 1830
● Leg 7 – 21 Miles, Starts 9/27 at 2200
● Leg 8 – 15 Miles, Starts 9/28 at 0630
● Leg 9 – 15 Miles, Starts 9/28 at 1300
● Leg 10 – 21 Miles, Starts 9/28 at 1930
● Leg 11 – 18 Miles, Starts 9/29 at 0400
● Leg 12 – 15 Miles, Starts 9/29 at 1130
● Leg 13 – 6 Miles, Starts 9/29 at 1800
● Leg 14 – 21 Miles, Starts 9/29 at 2130
● Leg 15 – 29 Miles, Starts 9/30 at 0600
● Leg 16 – 6 Miles, Starts 9/30 at 1630
● Leg 17 – 21 Miles, Starts 9/30 at 2000
● Leg 18 – 18 Miles, Starts 10/1 at 0430
● Leg 19 – 29 Miles, Starts 10/1 at 1200
● Leg 20 – 21 Miles, Starts 10/1 at 2230
● Leg 21 – 12 Miles, Starts 10/2 at 0700
● Leg 22 – 9 Miles, Starts 10/2 at 1230
(Includes Final Mile Ceremony)