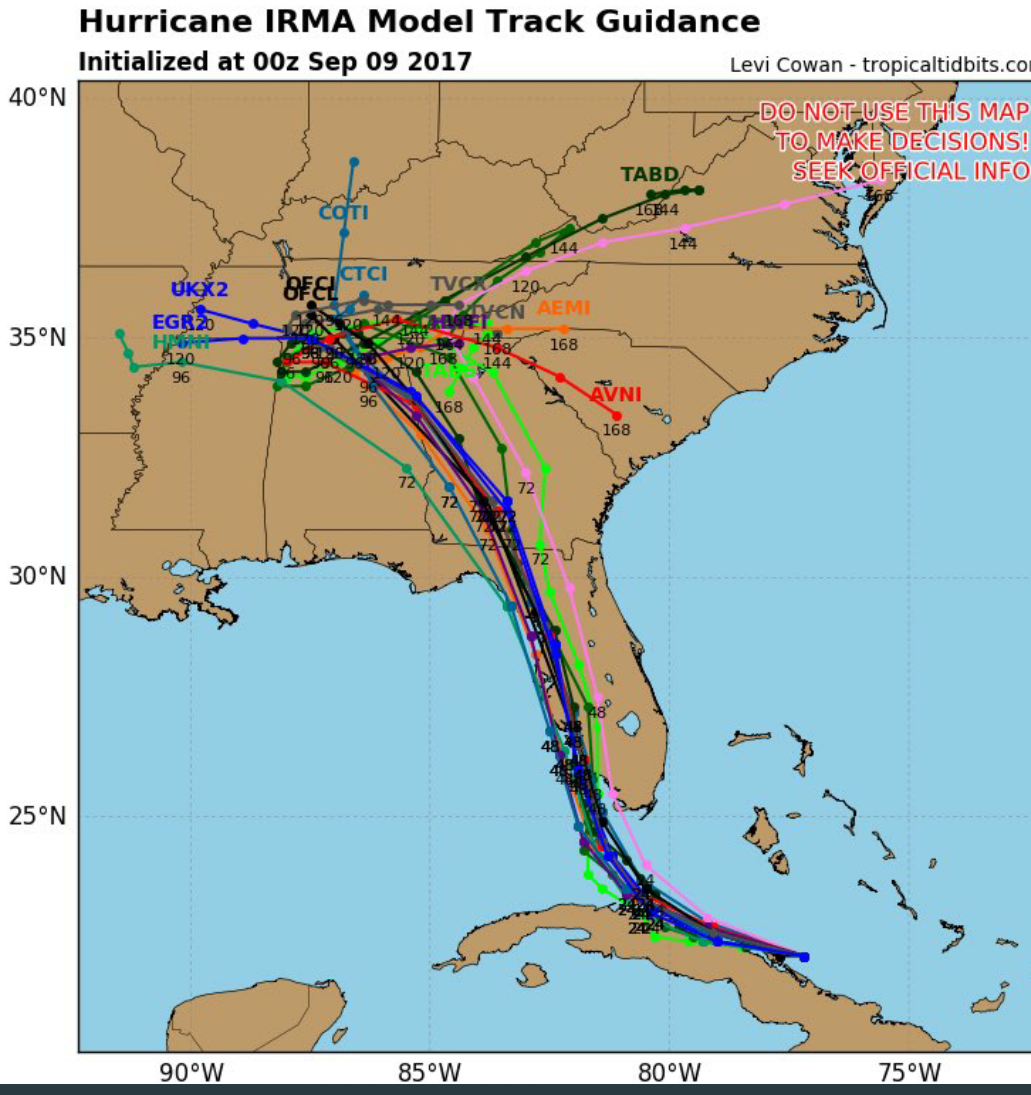 Increasing winds and heavy rains resulting from Hurricane Irma are expected to start in our area tomorrow as the storm moves up the west coast of Florida, and a tropical storm watch has prompted an evacuation of light aircraft from Hurlburt Field.
"Out of an abundance of caution, we are going to launch our U-28 fleet (light airplanes) and send them north for a few days," said Col. Thomas B. Palenske, installation commander, noting that currently up to 35 mph winds are predicted for the Hurlburt Field area.
Palenske said he and his family are "postured to leave on short notice, but are currently planning on staying put in our home."
Nearby Eglin Air Force Base has closed Cape San Blas operations and personnel are "working to ensure assets susceptible to wind damage are protected in case the winds become stronger." Additionally the base via social media encouraged military and civilian personnel and to avoid any personal travel East or South of Tallahassee until the hurricane has cleared Florida and travel conditions are safe.
The National Hurricane Center's 4 a.m. CST advisory shows the storm now moving west-northwest at 12 mph with sustained winds of 155 mph. Hurricane-force winds extend outward up to 70 miles from the center, and tropical-storm-force winds extend outward up to 195 miles.
"The track guidance is in good agreement that Irma should continue west-northwestward for the next 12-24 hours, followed by a turn toward the north-northwest that would take the center parallel to the west coast of the Florida
peninsula. Later in the forecast period, the cyclone should turn northwestward and eventually stall as it interacts with the aforementioned trough," stated NHC Forecaster Jack Beven.
Irma is expected to make landfall in Florida as an extremely dangerous major hurricane, and will bring life-threatening wind impacts to much of the state regardless of the exact track of the center, Beven said, adding, "
There is the danger of life-threatening storm surge inundation in portions of central and southern Florida, including the Florida Keys."
Beven went on to say that Irma is expected to produce "very heavy rain" and inland flooding with total rain accumulations of 8 to 15 inches, with isolated amounts of 20 inches are expected over the Florida Keys and much of the Florida peninsula through Tuesday night.
"Irma will likely bring periods of heavy rain to much of the Florida Panhandle," Beven said.
Additional watches and warnings related to Irma may be required for portions of the Florida Gulf Coast later today per NHC.
Meanwhile, Hurricane Jose is moving WNW at 13 mph with 150 mph sustained winds and today poses a threat to the Leeward Islands.