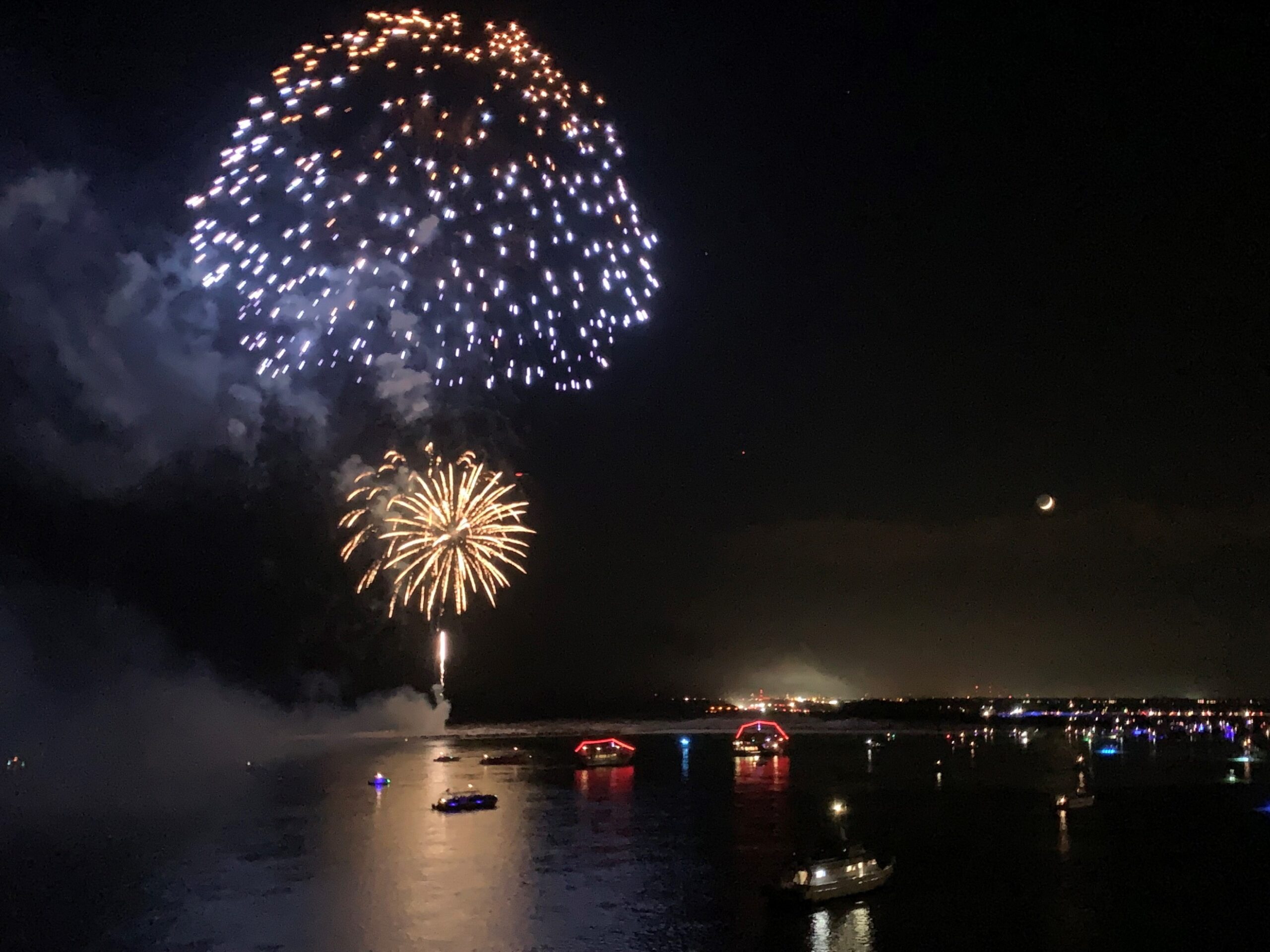 Fireworks over East Pass in Destin. City of Destin photo.
Here's information about local Independence Day celebrations, taking place Sunday, July 4:
Hometown 4th of July Celebration Concert
6-9 p.m.
8579 Gulf Blvd. (set up in parking lot)
Free outdoor concert, featuring Johnny Earthquake & The Moondogs, performing at 7 p.m. Stay to enjoy a firework display at 9 p.m. Bring a blanket and chairs to enjoy the show. For more information, visit www.navarrechamber.com or call 850-939-3267.
Navarre Beach 4th of July Fireworks Display
9 p.m.
Navarre Beach Fishing Pier
A firework display will be shot off from the end of the Navarre Beach Fishing Pier beginning at 9 p.m. For more information, visit www.getrelaxing.com or call 850-981-8900.
Downtown Milton July 4th Riverfest with Fireworks
9 am – 9 pm
South Willing St. in Milton.
Family friendly event featuring the Firecracker Bike Show, car show, food and retail vendors, live entertainment, and the Great Mill Town Duck Race. The night will end with a firework display sponsored by the City of Milton over the Blackwater River train trestle at dusk (roughly 8:30 pm). For more information, visit www.srcchamber.com or call 850-623-2339. A first aid station will be located on South Willing Street. Throughout the day on South Willing Street there will also be concession vendors, art, crafts, and retail vendors. Boats: a no-wake zone will be in effect for the day, and the train trestle will be operating until 10 p.m. The schedule of events follows:
19th Annual Firecracker Motorcycle Show – 9 am – 1 pm. Registration $10 day of show; Trikes – Bikes – Cash & Prizes; Awards presentation 1 p.m. at South Pavilion
Freedom Car Show – 9 am – 2 pm on Elmira Street; Free registration; Big Trophies – Big Fun Awards presentation 2 p.m. at Blackwater Bistro.
Treasure Island Children's Activity Area – 11 am – 5 pm; South Willing Street Riverside; adult-chaperoned fun-filled activities for children of all ages
The Great Milltown Duck Race – 5 pm; 1st Place: $1500; 2nd Place: $ 750; 3rd Place: $ 250.
City of Destin Fireworks
9 pm
East Pass, Destin
Sponsored by Compass Resorts the 35th Annual Independence Day Fireworks Show can be seen over the East Pass and will begin at 9 p.m., Sunday, July 4th. Tune in to Z96 (96.5 FM) for the simulcast music. In the event of inclement weather, the fireworks show will take place on Monday, July 5th at 9 pm.
Sertoma's 4th of July Fireworks
9 pm
Downtown Pensacola over Pensacola Bay
Largest local fireworks display. Cat Country 98.7 will play choreographed music to accompany the display.
Pensacola Beach Fireworks
8:30 p.m.
Quietwater Beach Boardwalk, Pensacola Beach
Dazzling fireworks display along the Pensacola Beach Boardwalk and Santa Rosa Sound. Arrive early to reserve your spot on the sand! pensacolabeachchamber.com/july-4th-fireworks
OWA Fireworks
8:45 pm
101—N South OWA Blvd., Foley, Alabama
2 pm parade featuring a 70-piece marching band from Mobile; 2:30 pm Patriotic costume contest; 4:30 pm live music starts and 8:45 pm fireworks display.
SAFETY MESSAGE:
Place used fireworks in a bucket of water before you dispose of them, keep small children and animals away from the fireworks and never relight those that do not work. For a list of hundreds of sparklers that are legal to use in Florida, visit the State Fire Marshal's website at https://www.myfloridacfo.com/division/sfm/bfp/approvedsparklerlists.htm.