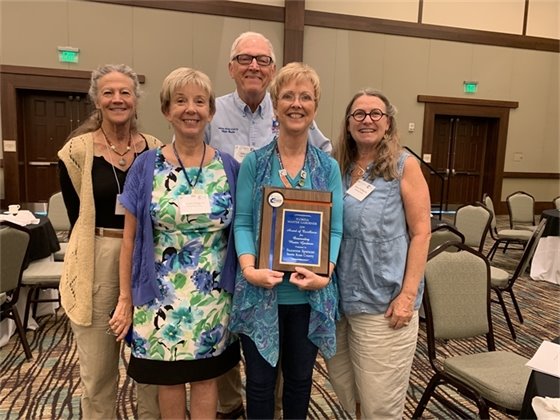 Florida Master Gardener Volunteer of the Year Suzanne Spencer (center with plaque) and fellow Santa Rosa County master gardener volunteers (from left): Jean Ann Hartman, Rachel Coggins, Mike Burba and Annie McIlhenny.
Santa Rosa County Master Gardener Volunteer Suzanne Spencer was honored by the State of Florida Master Gardener Program at UF/IFAS Extension as Outstanding Florida Master Gardener Volunteer of the Year. Suzanne has volunteered more than 1,780 hours since 2015 in roadside wildflower conservation efforts, native plant sales, providing solutions to residents on gardening problems, and providing leadership to her fellow master gardener volunteers.
Spencer was recognized at the 36th Continued Training Conference for Florida Master Gardener Volunteers in Kissimmee on October 22. Over 400 master gardener volunteers, county horticulture agents and specialists from Pensacola to Key West attended the three-day conference to learn, network and be inspired.
In 2018, 86 master gardener volunteers contributed over 12,000 volunteer hours to the betterment of Santa Rosa County through horticulture programs such as plant talks and workshops, demonstration gardens, school gardens, youth camps, plant clinics, plant sales and wildflower preservation. Statewide in 2018, there were 4,000 master gardener volunteers in 60 counties who donated nearly 350,000 hours to better their communities through a wide variety of horticulture programming.
For information on the master gardener volunteer program in Santa Rosa County, visit: https://sfyl.ifas.ufl.edu/santa-rosa/master-gardener-volunteer-information. To learn about the program statewide, visit: http://gardeningsolutions.ifas.ufl.edu/mastergardener. For questions, contact Mary Salinas, UF/IFAS Extension residential horticulture agent and master gardener coordinator, at 850-623-3868 or mderrick@ufl.edu.