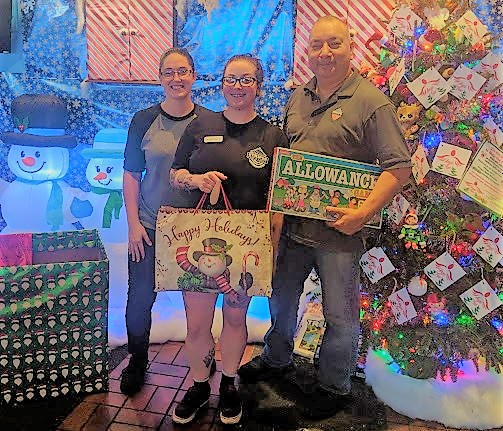 Robert Reyes, owner of Stripes Pub & Grille in Navarre, right, and his staff are working diligently to gather enough toys to provide 700 Hurricane Michael victims with Christmas gifts.
Tis the season of giving, and Stripes Pub & Grille in Navarre is making Christmas wishes come true for the less fortunate by collecting gifts for 700 children from Bay County who were victims of Hurricane Michael.
Robert Reyes, owner of Stripes Pub & Grille, said, "It's just what we do. If it wasn't for that cold front (steering the storm) that would be us. You've gotta help."
Reyes said his assistant general manager, Tara DeSousa, recruited him to the cause after her husband, a Santa Rosa County deputy, returned from relief work in Bay County.
"It was real said," DeSousa said of post-storm conditions. "We coordinated with Bay County Sheriff's Office. All the businesses over there are gone."
So DeSousa and Reyes' wife stepped up and decided to do an angel tree specifically for children impacted by the storm.
According to DeSousa, other businesses are also helping. There are now angel trees at Ye Olde Brothers Brewery in Holley, Anchored Salon, Simply Storage and Lowes in Gulf Breeze.
DeSousa said they are asking for angel tree donations to be turned in by December 17. Cash donations toward the cause are also accepted.
Additionally, during the eatery's December 15 Breakfast with Santa, patrons who bring in an unwrapped toy will receive 10 percent off their tab.