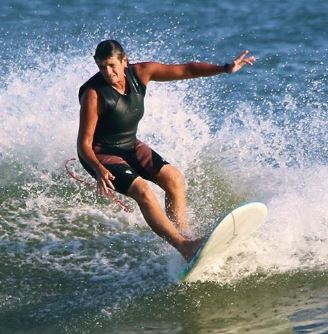 Navarre Beach's first female lifeguard and local surfing legend Brenda Stokes was in the right place at the right time last week to help save the lives of a dad and his daughter who were struggling in rough Gulf surf.
Stokes, who is credited with saving dozens of lives during her tenure as a Navarre Beach lifeguard from 1972-1974, had come out to the pier to give a surfing lesson, which she decided to call off because of dangerous conditions.
As Stokes, the winner of five major surfing titles, was getting ready to leave, Navarre Beach Fire Rescue Captain Sean Hughes yelled out from atop the pier, pointing her in the direction of what she at first thought must be a distressed swimmer.
Stokes sprang into action, popping her surfboard in the water and paddling out as directed without realizing there were actually two swimmers in peril.
"I feel confident that if she wasn't where she was at that exact same time that the outcome would've been totally different," said Navarre Beach Fire Rescue Chief Danny Fureigh. "The gentleman who was rescued said that he was just about to give up."
As she got closer, Stokes noticed a young girl wearing a life vest. As she was rushing to help, the young girl pleaded for help for her dad.
"He was so focused on getting his daughter out. Once Brenda showed up to get his daughter, he had given up. That's when Captain Hughes and Firefighter Chris Jines pulled him in."
Stokes has participated in a multitude of rescues over the years and is well known to local first responders who praise her for continued work helping to save lives.