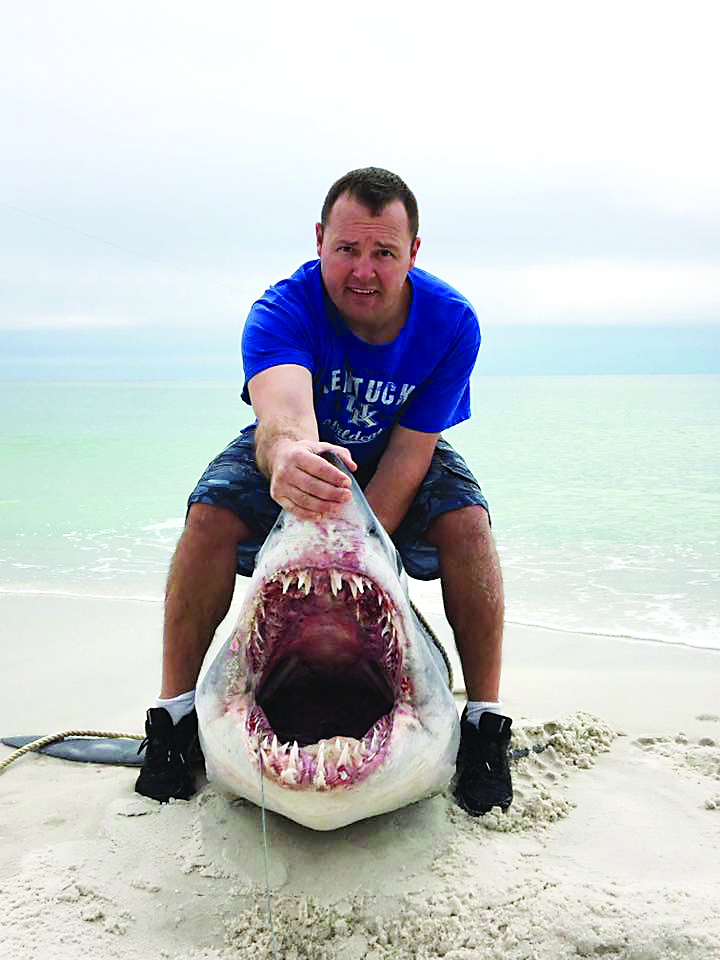 A local fishing group that gives back to area veterans snagged their first big catch of the year last Saturday: a 10 ft. 2 inch Mako Shark from the white sands of Navarre Beach.
The estimated 600 pound shark was hauled in by the American Yakers fishing team based out of Navarre.
Founders Chester Gamble and David Wood helped haul in the behemith, including Gamble's 13-year-old son, Tyler who served as part of the leader team on the haul.
After pulling in the shark, it was pulled off the beach to be harvested for meat, but Chester said the meat was going to a good cause, and the fishing group rarely harvests sharks.
"Ninety-nine percent of what we catch is tagged and released for NOAA (National Oceanic and Atmospheric Administration)," Chester said. "If we do harvest (a shark), we donate it to veterans. As soon as we catch a fish like this, I send out a group text to see if there are any local veterans who could use the meat."
During the big catch, the group was chartering half a dozen veterans and each of the local vets took home 10 to 20 pounds of the meat each. Chester said his team also plans to host a squadron barbecue soon to help feed a local military squadron.
Chester said his group's mission is to give back to veterans and their families, which they often do through charter fishing trips and land-based shark fishing trips like the one they helped put on last Saturday.
"We have boar, kayak and land-based shark fishing. We started this group up for all veterans and their families so they can learn to fish for free. Since we've started, we've taken out 89 veterans," Chester said.
The group was founded 3 years ago.
"It was our first big catch of 2017. We had a bunch of small spinners that we tagged and released for NOAA and a Hammer and a Tiger that were small," Chester said.