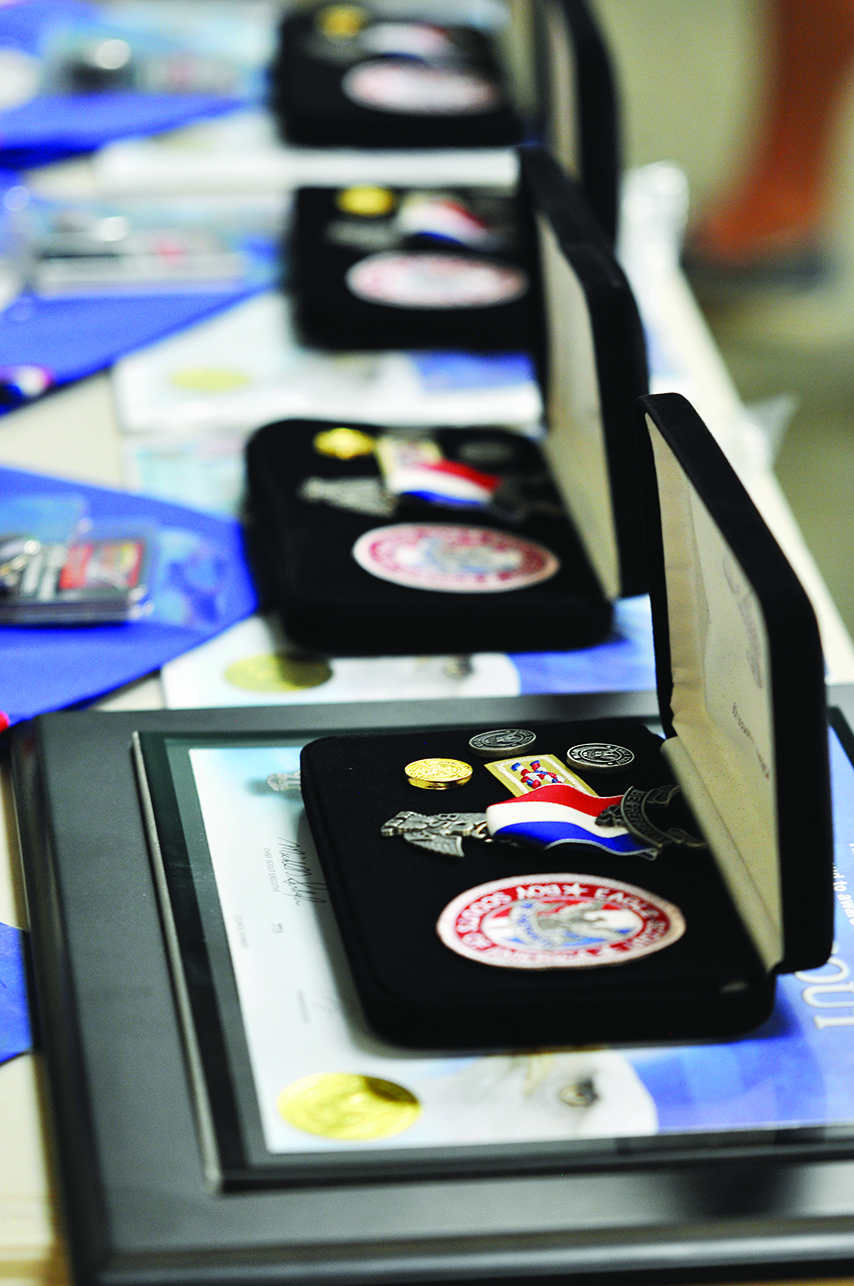 The eagle soars high and seeks to rest only upon the lofty peaks. As an Eagle Scout, you too must soar high. You must not swerve from the path of duty. Your ideals must be lofty. You must strive to obtain that which is the highest and noblest in life.
Last Saturday, four Boy Scouts from Troop 102 had the privilege of earning an honor that only 2 million scouts have obtained since 1912. An honor held by men such as astronauts John Glenn, Steve Oswald and Neil Armstrong; former president Gerald Ford, TV celebrity John Tesh, movie producer Steven Spielberg, actor and producer Sheldon Leonard and Olympic Gold Medal winner Steve Holcomb.
"The point is, many of you will go on to do great things with your life," said current Troop 102 Scoutmaster Joe Gillis as he faced Caleb Dick, Hunter Musil, William Nguyen and Evan Overly at the Eagle Scout Court of Honor ceremony last Saturday afternoon inside the Community Life United Methodist Church in Gulf Breeze. "It doesn't end here."
The four local boys sat in the front row of the audience during the ceremony with anxious parents, family members and friends watching on as Gillis and his troop conducted the ceremony honoring their rare feat.
All four boys were required to conduct an Eagle Scout project, obtain 21 merit badges, perform community service, and more importantly, live by the principles of the Scout Oath and Law in their daily life. An oath the four boys pledge at the beginning of every boy scout meeting, and one they pledged right before the Eagle Scout ceremony last Saturday.
All three scoutmasters who watched the four boys move up the ranks within Troop 102 were in attendance and spoke at the ceremony, including Gillis, who has served as the troop's scoutmaster since June 2015.
"Getting to the rank of Eagle is a big deal," Gillis said. "They've accomplished a lot. It's not easy to make Eagle. This is a culmination of years of work and dedication on their part."
Musil, son of the late Lori Musil, did his Eagle Scout Project to honor the 11 servicemen who died when their Blackhawk helicopter went down in the Santa Rosa Sound during a training exercise back on March 11, 2015. Musil constructed a memorial for the servicemen at the Santa Rosa County Veteran's Memorial Park in Milton.
Musil, a recent Gulf Breeze High School graduate and a former star lacrosse player for the Dolphins, plans to join the Navy in September.
Dick, the son of David and Glenn Brown, constructed bat boxes, which he erected behind the Community Life United Methodist Church.
"He was looking for a cost effective way of getting rid of the insects," Gillis said. "Bring in bats, cost effective, it worked really good."
Dick has plans to study political science.
Nguyen was tasked with helping paint the inside of the Gulf Breeze Chamber of Commerce in Gulf Breeze Proper last year as part of his Eagle Scout project.
Nguyen has plans to attend the University of West Florida in the Fall.
Overly, the son of Ralph and Tish Overly, built garden boxes for a church in Gulf Breeze for his Eagle Scout Project.
During the ceremony, each scout was given the Eagle Scout badge and also presented their parents with a pin to thank them for helping them through the tedious process.
The scouts also had the opportunity to thank their biggest mentor and presented them with a pin during the ceremony.
"The Eagle has always carried with it a special significance. Not only in scouting, but in higher education, in business, industry and in the community itself," Gillis said. "This means that most of you will go on to do great things."
Troop 102, a boy-led troop, is chartered by the Gulf Breeze United Methodist Church in Gulf Breeze.