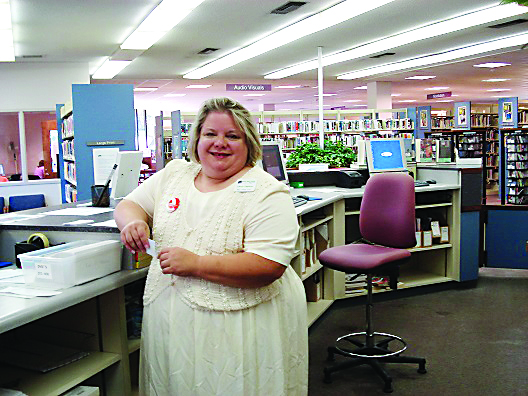 Chances are, if you walked into the Navarre or Gulf Breeze libraries sometime over the last 15 years, you probably ran into "the kindest woman in the world."
A woman many referenced as "Our Helen".
That woman was Helen Elizabeth Garbark, and she greeted patrons at both library branches for a total of 13 years before she passed away from complications due to a stroke on Sept. 14.
On October 8, friends and library coworkers gathered inside the Navarre Library to remember Garbark, who always greeted people with a smile—something she became well-known for during her tenure at the library branches.
Tissue boxes were handed around as Santa Rosa County Library Director Gwen Wilson reflected on the times she was greeted by Garbark—with her famous smile.
"It didn't matter what was going on with her physically…she always had that smile on of hers," Wilson said. "She had that oxygen tank on and even had a great big smile."
During the intimate ceremony, Wilson read a number of poems in memory of Garbark, including "I thank thee, God, that I have lived", by Elizabeth Craven, in memory of Garbarks' "love of literature".
"Helen was absolutely amazing. We're here to celebrate her beautiful, wonderful life that she lived," Wilson said. "One of the many things I remember most about Helen was her love of literature, her love of books and her love of people."
Retired Navarre Library librarian Susan Cook, who knew Garbark for many years, also spoke about how kind Garbark was to anyone she came into contact with.
"I think Helen in many ways was grand. She was a grand friend, she was a grand employee to our patrons. I think many remember her for her great cooking skills. She loved her recipes," Cook said. "When she felt like it, she could whip out food."
Food like cucumber sandwiches, along her other favorites, were spread out on a table at the ceremony where friends and employees gathered to reminisce about Garbark's life.
Garbark was born on Sept. 14, 1955 in Wheeling, W.V. She later moved to Florida in 1978 and lived in Bradenton, Tampa and Tallahassee before permanently settling in Gulf Breeze.
Helen earned a degree in Medical Assisting in Ohio and later earned a degree in Education from the University of South Florida.
She later worked as a medical office manager, then a medical transcriptionist. After obtaining her degree in Education, she taught school in Escambia County, and later found her niche in the public library system—first at Gulf Breeze Library, and later on at Navarre Library.
Garbark worked at the Gulf Breeze Library from 2001 to 2008. In 2008, she transferred to the Navarre Library, where she worked until 2013.
During the ceremony, Wilson said she visited Garbark on her birthday, the day she passed, where she reminisced with Garbark about "Helen stories".
"She meant a lot to all of us. I'm so glad we were able to get that day in," Wilson said.