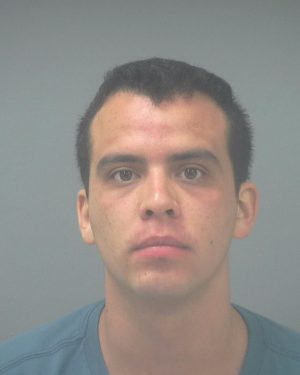 Jose "Brandon" Prado Garnica, 21, according to law enforcement, was initially denied entry into the United States but eventually arrived in late 2017 and reportedly started raping a 12-year-old girl until she fled for California in May 2019.
The suspect was booked June 13 into Santa Rosa County Jail, where he is being held without bond on related charges.
Prado Garnica's sister, Guadalupe Garnica, told police her brother had been "inappropriately touching little girls" in Mexico and one of the children belonged to a well-known Cartel member.
It's unclear how the suspect was able to gain entry into the U.S., but he arrived in November 2017 when he was 20 years old and the victim in the case was 12 years old. He was residing at 5235 Tuscaloosa Street in Milton.
Guadalupe's husband came to Florida for a visit and caught Brandon coming out of the victim's room. When confronted Brandon became aggressive and confrontational, according to a Santa Rosa County Sheriff's Office arrest report.
An investigator with the First Judicial Circuit State Attorney's Office on Wednesday was unaware whether or not Prado Garnica is illegally in the U.S., reporting the case was under investigation.
Santa Rosa County deputies in early May were contacted by an Avalon Middle School guidance counselor who reported that a student was possibly being abused at home.
The counselor told cops there had been a domestic situation between Jose "Brandon" Prado Garnica and Jose Guadalupe Prado and that Brandon had subsequently been arrested April 29 for battery and Jose had since quit his job. So the counselor requested a welfare check of a student.
Cops discovered the child victim and an adult were fleeing to California. On the morning of May 2 police were informed that Brandon had raped the victim and taken a video of it.
Then law enforcement on May 3 received a copy of an audio message stating the victim feared Brandon because he had raped her and tried to kill Jose and that was the reason they left for Sacremento, California.
Per the Santa Rosa County arrest report, the abuse had been taking place for about 18 months.
Investigators discovered that a deputy with Sacremento Sheriff's Department on May 21 had taken a report about sex crimes involving the suspect and victim, who is currently 13 years old. The abuse was reported to have started on Christmas Eve in 2017 when the girl was 12, according to the report.
The victim on April 18 of this year cut her wrists in an attempt to kill herself so the suspect could no longer sexually batter her, stated Prado Garnica's arrest report, which also notes she reported he threatened to kill her and her parents.
Prado Garnica now faces a third-degree felony charge of battery; a first-degree felony charge kidnapping – false imprisonment of a child; a felony count of sexual battery with a weapon or force on a victim over 12 years and under 18 years and a first-degree felony count of sexual battery on a victim over 12 years and under 18 years.