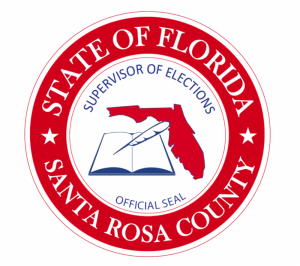 The Santa Rosa County Canvassing Board will meet at 8 a.m. Friday, November 16, 2018 to conduct a manual recount for the races of U.S. Senate and Commissioner of Agriculture.
This meeting will supersede the meeting scheduled for 2 p.m. for the 10-day overseas ballots. The 10-day overseas and official results certification meeting will be rescheduled for 10 a.m. Sunday, November 18, 2018.
If necessary, the canvassing board will continue the manual recount at 8 a.m. on Saturday, November 17, 2018.
The recount will occur at the Santa Rosa County Supervisor of Elections Office, 6495 Caroline Street, Suite F, Milton, FL 32570. The recount is open to the public.
Persons with disabilities requiring reasonable accommodations to attend should call the Supervisor of Elections office at (850) 983-1900 prior to the meeting.
This notice is provided pursuant to F.S. 102.141 and F.S. 286.0105, has been posted pursuant to F.A.C. Rule 1S-2.031(c).
Mismatched Signature Cure Deadline Extended
The deadline to cure mismatched-signature ballots has been extended until Saturday, Nov. 17 at 5 p.m. due to directive 2018-04.
Affidavits to cure a mismatched-signature ballot can be found on www.votesantarosa.comor a copy can be picked up at the Santa Rosa County Elections Office located at 6595 Caroline St., Suite F in Milton.
The Santa Rosa County Supervisor of Elections office is contacting voters whose ballot was not counted due to mismatched signature but was returned to the elections office by
7 p.m. Nov. 6. If you are unsure of the status of your ballot, please contact the Santa Rosa County elections office at (850) 983-1900 or check your status on www.votesantarosa.com.
The full text of directive 2018-04 and the injunction can be found on the supervisor of elections website.