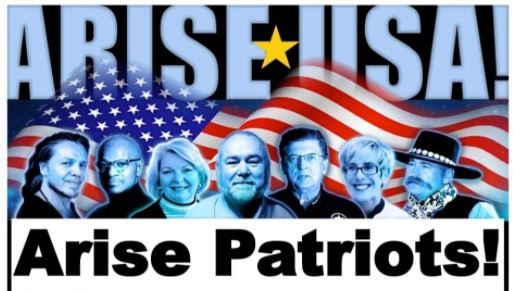 A nationwide movement is afoot to unite citizens in Constitutional counties, and toward that end Santa Rosa Volunteers 1776 are hosting a faith, family and freedom festival Saturday, May 22 in downtown Milton. The free event will feature the Arise USA Resurrection Tour lineup plus live entertainment before and after the speakers.
The Arise USA Resurrection three-month tour will be making 84 stops throughout the country, including the Santa Rosa County Event, which will take place at Jernigan's Landing in historic downtown Milton.
Tour leaders include Robert David Steele, Cynthia McKinney, Sacha Stone, Sheriff Richard Mack, Kevin Jenkins, Trent Loos, Leigh Dundas, Dr. Sherri Tenpenny and more. The group aims to share a great new vision of America and the world.
Santa Rosa County festival organizer Dennis Pate says Sugar Cane Jane will kick off the event around 2:45 p.m. Pate said the group will be touring with Dwight Yoakam but wanted to support the Arise USA event in Milton. Southern Fried Band will also perform before the Arise USA lineup starts at 5 p.m.
Speakers from the Arise USA group will speak until roughly 7 p.m. and will be followed by the band Everyday People, which will perform for around 90 minutes.
Tables will also be set up by local individuals and businesses, including Gun Coast Gun & Outdoors.
Gulf Coast Gun & Outdoors Owner Chris Smith said he provoked the ire of Santa Rosa County District 5 Commissioner Colten Wright when he challenged the board's effort to place multiple restrictions on citizens who wanted to speak out during public meetings. Since then he's started publicly calling out the board for missteps and mistruths.
"If we don't keep on these guys there's no telling what they're going to get away with," said Chris Smith, owner of Gulf Coast Gun & Outdoors.
During Smith's live weekly show broadcast Wednesday via social media, he discussed the Santa Rosa County Commission's issues and the upcoming event with Pate.
"They are the reason that we came out. They brought us out. Their despicable, disgusting behavior brought us out," said Pate.
Pate also mentioned the Santa Rosa School Board, which recently started removing parents from public meetings for speaking out of turn.
"We have got to draft Patriots and get them elected. If you are a Patriot, now is the time. Your community needs you," Pate said.
The festival will take place at Jernigan's Landing, which is owned by the City of Milton and located on South Willing Street on the banks of Blackwater River.
For more information visit srv1776.com. For tour details visit ARISE.world.