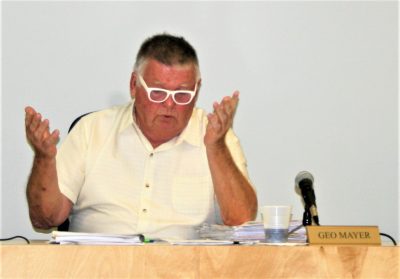 Holley-Navarre Water System board member Geo Mayer sent out an April 2 email stating that he and three fellow board members along with HNWS General Manager Paul Gardner had interviewed John Childs, who in a 3-2 board vote was approved in a closed-door meeting April 17 as the new manager of Hidden Creek golf course, which is owned by the utility.
Mayer's email states that he, HNWS President James Calkins and fellow board members Ricki DeSantis and Debbie Gunnoe meet with Childs April 2, the same date as an employment terms contract for Childs which South Santa Rosa News made public earlier today.
"He made a fine impression and all member questions and inquiries were addressed to the satisfaction of the members present. The Board participants recommended a four member committee to negotiate an (sic) term employment contract containing a strong incentive contract provision," Mayer stated in the email.
In an April 17 closed-door meeting, Mayer, Calkins, Gunnoe and DeSantis voted to fire Jim Morgan, former golf course manager. During that same meeting it was also approved for an employment contract to be negotiated with Childs.
Morgan's attorney, Clayton M. Connors, on April 23 issued a $285,000 demand for settlement to HNWS and Hidden Creek and Mayer, citing breach of contract or anticipated breach of contract.
"The Board's actions were without cause and therefore entitle Mr. Morgan to payment for the remaining 10 months and seven days of his contract," stated Connors in a letter to HNWS' legal counsel, Keith Kilpatrick. "The Board's termination of Mr. Morgan has been widely disseminated throughout The Club and community causing Mr. Morgan great (embarassment) and distress. The Board's actions, specifically those of Mr. Geo Mayer, have, and continue to, damage Mr. Morgan's professional and personal character and reputation, and clearly demonstrates its intent to create a hostile working environment by retaliating, harassing and discriminating against Mr. Morgan," added Connor.
Connor's letter states that the demand for settlement expires in 10 days and takes into account the full extent of Morgan's damages due to the board's breach of contract or anticipatory breach of contract should the board assert Mr. Morgan was not terminated April 17.
During the April 24 HNWS meeting James Calkins, president of the board, denied Childs had been hired. However, fellow board member Daryl Lynchard contested the assertion, stating that Gunnoe during the April 17 closed-door session had made a motion to approve the hire, which was passed by a majority vote of the directors.
The April 24 meeting attracted a stand-room-only crowd during which Calkins was accused by HNWS members of lying about the hiring.
Mayer's email in its entirety is posted below (email addresses and the salutation have been redacted to protect the source) along with the employment contract term sheet for Childs dated April 2.