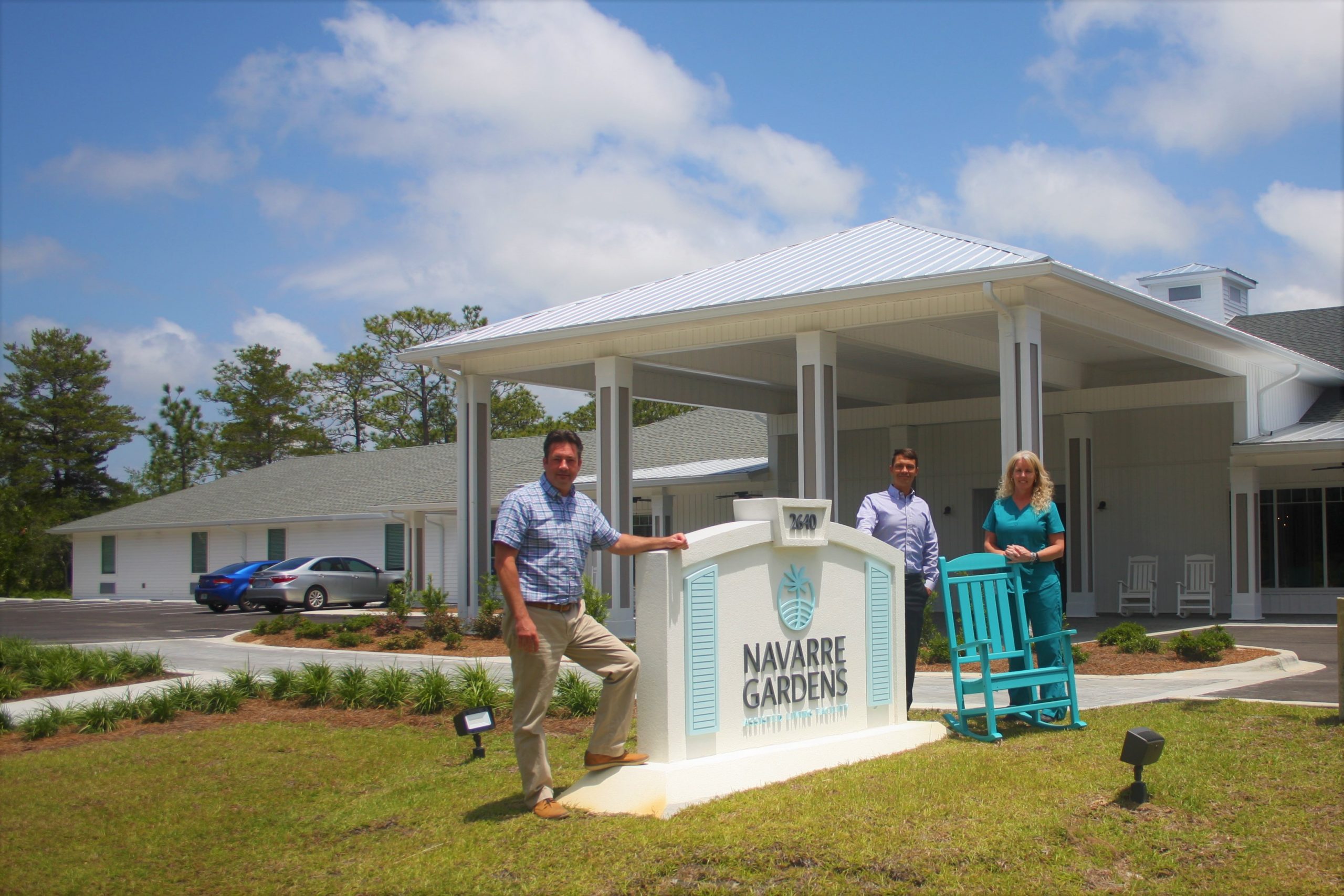 Keith Kilpatrick, left, and his law partner, Isaac Newlin, pictured in front of their newly opened second assisted-living facility. Also pictured is Navarre Gardens Nursing Director Kelly Patton. Photo by Romi White.
Florida Governor Ron DeSantis on Wednesday announced additional precautions, including expanded COVID-19 testing, to protect residents of long-term care facilities, which so far have account for roughly one-third of the state's Coronavirus deaths.
According to DeSantis, 84 percent of Florida's COVID-19 deaths have been persons 65 years of age or older, including 776 deaths of residents or staff from the state's 4,400 long-term care facilities.
"We're going to continue maintaining the screening for the staff," DeSantis said, noting that infection control at such facilities must be "proactive," including screening of vendors and mandatory testing of hospital patients before they can enter or return to nursing homes or other long-term care facilities.
DeSantis also touched on the emotional impact of his March 15 emergency order, which prohibited visitors at long-term care facilities, stating he "had no choice" and had to do it.
Two months into the order, he's still not ready to relax it, but offered hope that it is impending. Some measures DeSantis is looking to have in place first are personal protective equipment and on-the-spot testing for visitors.
"I just want to know that if someone goes to visit their mother, two weeks later we're not going to have 50 infections," he said, noting the isolation "does come at a psychological and social cost."
Guarding the health of patients at assist-living facilities is paramount at Navarre Gardens.
"Given the risk COVID-19 has posed to our residents, we put in even more rigorous standards and procedures to protect their safety," said Navarre attorney Keith Kilpatrick, who, along with his law partner Isaac Newlin, owns both locations of Navarre Gardens.
There have been no COVID-19 cases to date at either of their assisted-living facilities.
"We are so proud of our staff who have worked tirelessly during this time to keep our residents safe and Navarre Gardens Assisted Living Facilities COVID-free. It has been led by a monumental effort from Kelly Patton, who has stepped up and protected both existing residents and those many new residents she has admitted into our new facility," said Kilpatrick.
The recently opened Navarre Gardens 2 facility has a capacity of 75 and is located on Highway 87 S and mirrors the first facility, which has a capacity of 47 and is located on U.S. 98 near Lowe Road.
"We are very proud that we are open and still able to carry forward the mission to provide the best quality care for our local elderly population," said Kilpatrick.