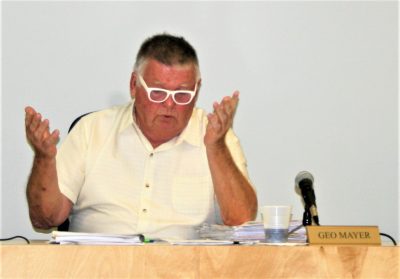 HNWS Board Member Geo Mayer, who was named in an April 23 demand for a $285,000 settlement by fired golf course manager Jim Morgan
It was standing room only during the April 24 Holley-Navarre Water System board of directors meeting concerning Hidden Creek golf course, which is owned by the utility for the discharge of treated wastewater.
Last week four of the board's seven directors voted to fire Hidden Creek Manager Jim Morgan during a closed-door meeting. During that same meeting a majority of the board approved negotiating an employment contract with his replacement, John Childs, who previously worked at the course.
Members packed the board room tonight to find out why the actions took place.
However, Board President James Calkins shut down related discussion.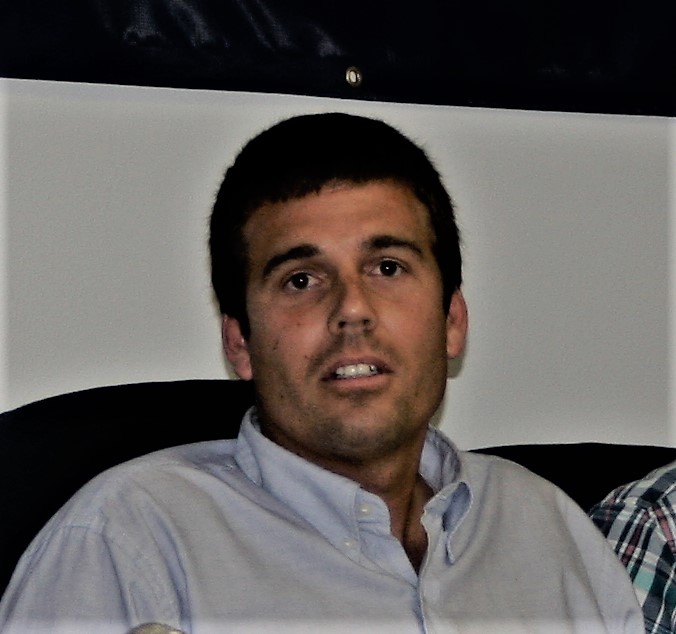 HNWS President Calkins during the April 24 meeting was shouting for order
HNWS member TJ Goulet, the brother of HNWS board member Will Goulet, asked for clarification about action taken during the April 17 closed-door session.
"We will move into the public forum, and you will be able to have five minutes," HNWS President James Calkins said.
"Point of order, Mr. President. One of the directors stated that there was a vote last week 4-3 to hire a new golf course general manager, and then one of you lied and said 'no, there wasn't'," said Goulet.
"Wait until you get your five minutes though," said Calkins, asking Goulet to sit down.
"Well not if you're just going to completely lie about things," Goulet said.
"Please have a seat and we will continue," Calkins said.
"Are you going to continue to lie to these people and me," asked Goulet.
Calkins said the board would continue to conduct business.
"It's not board business if you're lying to the members," Goulet said.
"Mr. Goulet, Mr. Goulet, please have a seat," Calkins said, hitting the gavel.
"If you're going to lie to the members, it's not board business. This is a member-owned company. You don't get to lie up there, sir…every time you lie I'm going to call out. You don't get to tell untruths," Goulet said.
Later in the meeting during public forum Holley resident Donna Sue Harvell asked if Morgan's position would be advertised, specifically on the HNWS website under jobs.
"Ah, I would like to ask our staff on applications, like if people, because I really don't know," Calkins said.
"We've already hired a general manager," interjected board member Daryl Lynchard, who along with fellow directors Will Goulet and Mark Miller voted against the firing of Morgan and hiring of Childs during the April 17 meeting.
"That is not true, Mr. Lynchard," Calkins said.
"Debbie (Gunnoe) made the motion," contested Lynchard.
"I would like to defer to our attorney," said Calkins
"Debbie made the motion," Lynchard said again.
"Sir, sir you're out of order," Calkins shouted. "I would like to defer to the attorney."
HNWS Attorney Keith Kilpatrick then chimed in. "If I could, if I may, it's always been the policy of this board to keep any personnel and attorney/client-privleged issues behind the scenes."
"But we've hired a general manager. That's not a secret," said Lynchard.
Fred Terasa, who has been a member of Hidden Creek Golf Course for about two months, also addressed the board.
"I'm aghast that as a member, as someone that pays, I guess (Kilpatrick's salary), and I don't know what you all make, but for you work for us and for you to stand there and tell me that I can't understand what happened to my club with respect to the (manager) because of some legal business is ridiculous. I know you've probably got a suit looking at you, which from what I gather is probably well deserved, but my point is these people out here, all these people, many of my friends from golf, want to know what the heck is going on with our club and our general manager…and Mr Attorney, I'd like to know how do we recall these people and how do we fire you. Thank you very much," Terasa said.
EDITOR'S NOTE: Calkins contacted South Santa Rosa News the afternoon of April 25 to state that it was a 3-2 vote on April 17, approving negotiations of an employment contract with Childs.
Following is the employment contract term sheet for Childs — dated April 2.