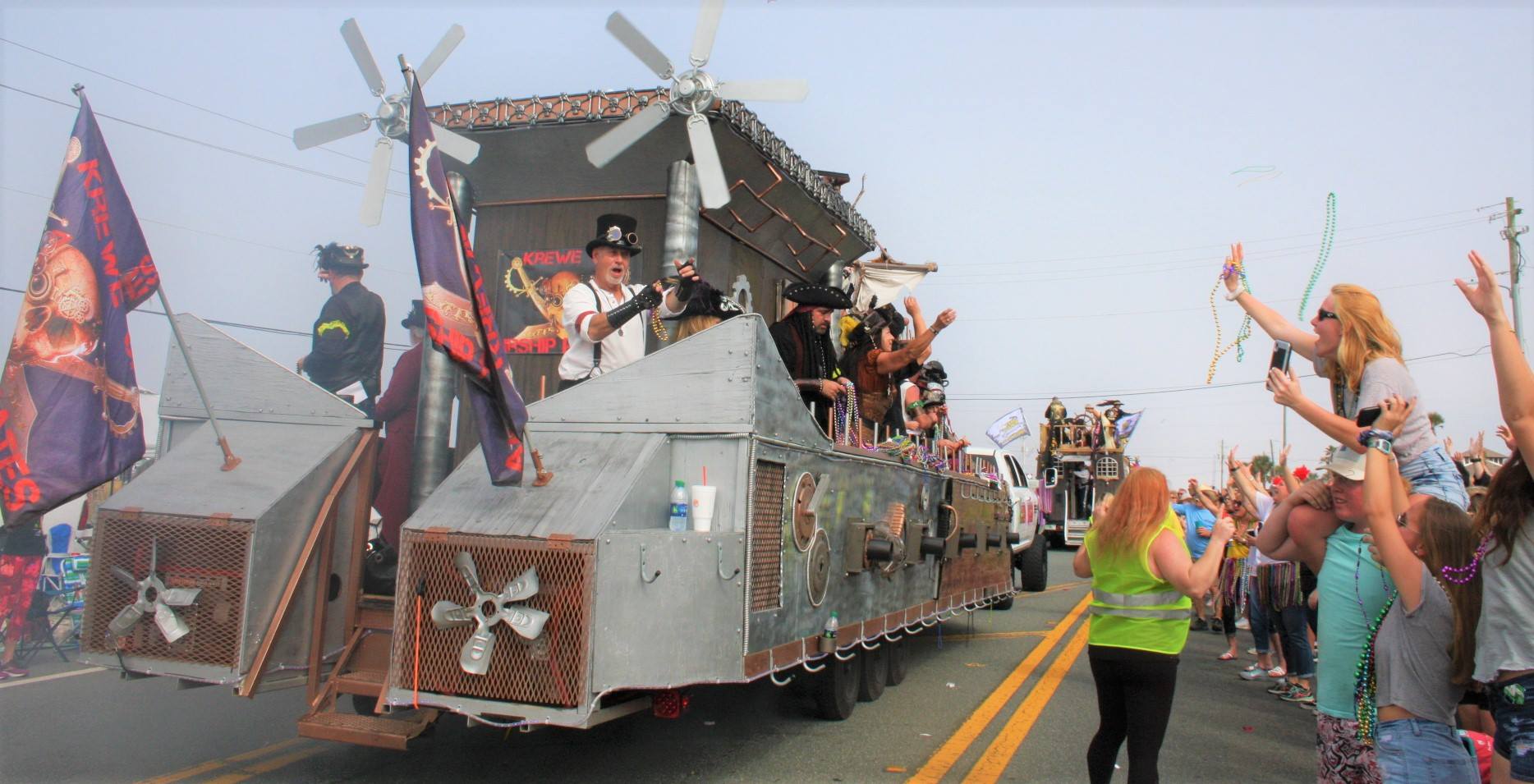 South Santa Rosa News files photo of the Krewe of Airship Pirates. Their parade will proceed south from James Street on Stewart Street, east on Berryhill Street, south on Willing Street then west on Pine Street. Following the parade, an After Party featuring the Mo Jiles Band from Houston will take place until 11 p.m. at Riverwalk Park South on S. Willing Street. Both events are free and open to the public.
After the cancellation of some other local Mardi Gras parades due to COVID-19 concerns, the Krewe of Airship Pirates has taken criticism on social media for moving forward with their 2021 Mardi Gras Parade, which kicks off at 5 p.m. this evening.
But it was the City of Milton which granted a permit for the parade to proceed.
Milton Mayor Heather Lindsay, who doesn't vote on council matters unless there is a tie, has been vocal in her opposition to the council's decision to allow it, but City Manager Randy Jorgensen has stated the action was aimed to stimulate the local economy and that the city will take preventative measures, including distribution of up to 20,000 masks.
Parade organizers are also taking additional steps to prevent the spread of COVID-19:
Encouraging mask use;
Increasing the length of the parade to encourage and offer social distancing opportunities;
Providing multiple hand washing and hand sanitizing stations;
Providing every vendor with free masks to hand out at no charge;
Offering the Afterparty at an outdoor venue with multiple acres of space to encourage social distancing.
However, despite the precautions, organizers say they have been discouraged by the criticism, which included an editorial from Pensacola News Journal calling the event a "spectacle of selfishness."
"With the aggressive and visible misinformation, slander and harassment that the Krewe of Airship Pirates has endured in the last few weeks, we believe there is a need to speak up and properly defend our members against the vitriol," said a group statement.
The Emerald Coast Krewe of Airship Pirates, a community organization established in 2017, is focused on community service. Currently it has about 50 members.
"Recent claims state that this group of highly skilled, professional and talented individuals are 'ignorant, stupid, selfish, and just backwoods rednecks' who don't care about their neighbors and community. The opposite is true," read the group's statement. "This is a group of individuals whose goal is to give back more to the community than they could ever receive in return."
Since its 2017 formation, the Krewe of Airship Pirates members have:
Donated more than $14,000 to the Ronald McDonald House of NW Florida;
Donated slightly over 8,900 pounds of food to Manna Food Banks in 2019;
Assisted A&R Tinting in Gulf Breeze with a Christmas Toy Drive where hundreds of toys were collected and distributed to Interfaith Ministries in Navarre, Santa Rosa Kids' House and Ronald McDonald House;
Proudly supported and participated in Relay for Life, Escambia Westgate School for Special Needs annual Mardi Gras parade, and the Starfish Project in Navarre;
Assisted with Pensacola Beach Clean-up Days;
Collected items and successfully filled a semi-trailer truck with hurricane supplies for victims of Hurricane Michael and drove door-to-door delivering the supplies to communities in need.
Krewe leaders say despite the criticism they have received "widespread community support" from many residents who "need to feel some sense of normalcy, if only for an evening."
The group argues that indoor activities and outdoor sports activities are regularly taking place.
"The annual Christmas Parade took place with very little concern or rebuttal. Multiple other Mardi Gras events throughout Escambia, Santa Rosa, and Okaloosa County remain on schedule."