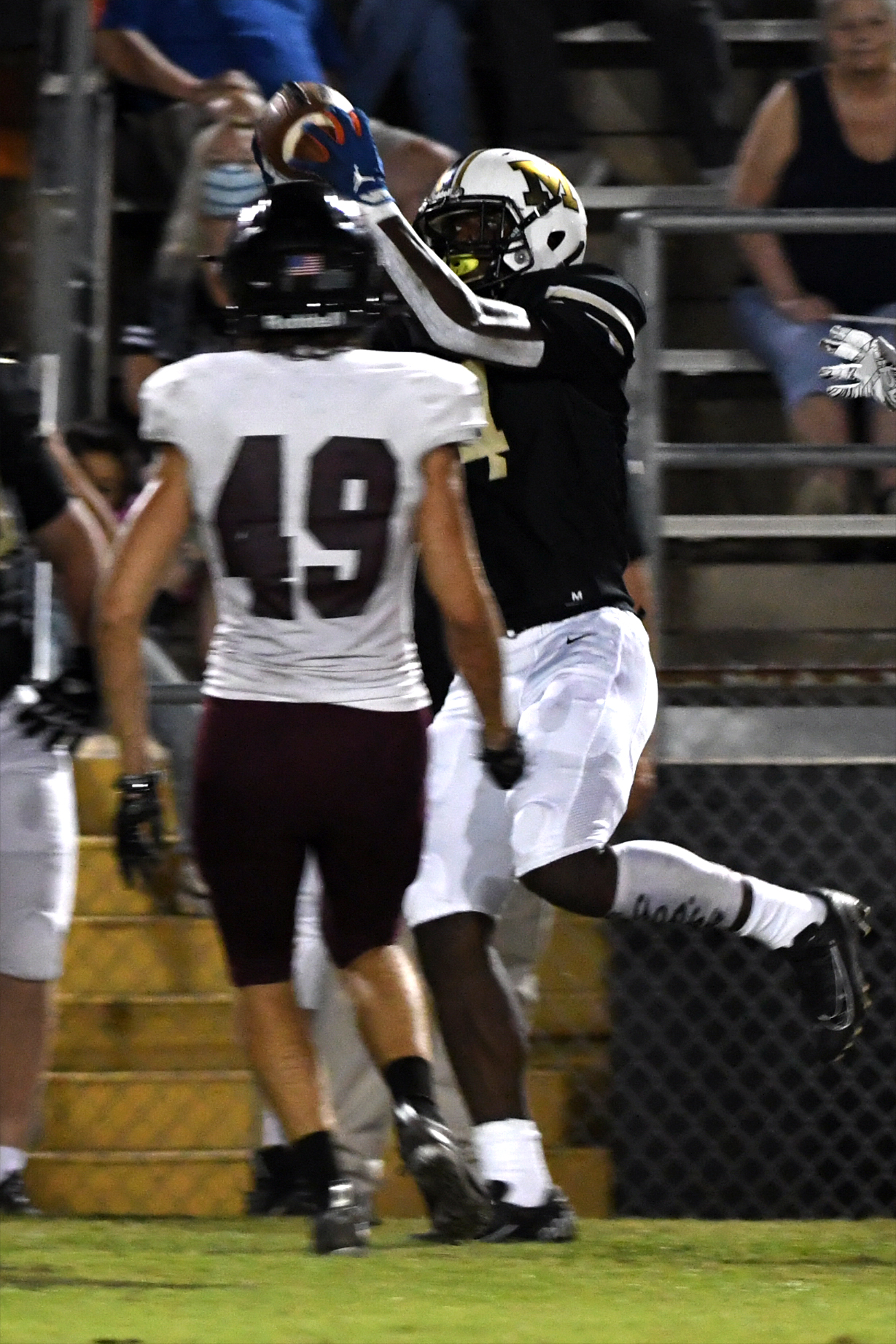 Panther receiver Raymond Cottrell grabs a pass in the first half against the Navarre Raiders. (Photo by Stuart Camp)
Milton's Raymond Cottrell snared a late 30-yard bomb to vault over the Navarre Raiders Friday night, 18-13.
This was the Panthers' first victory over Navarre in 12 years, and the game-winning score came with 98 seconds left on the clock. And they did it on alumni night, in front of former Milton players, coaches, and cheerleaders who endured the 16-game losing streak against Navarre.
"Today, we felt that we could compete. We're built for this … with some strong, strong kids with fight on both sides of the line," Milton head coach Harry Lees said. "I'm really proud that we came back once we did get down tonight."
Gunslinging junior quarterback Emory Williams delivered on the night, including two first-half touchdowns that put Navarre on the ropes and sealed the victory with the connection – off an audible – with Cottrell.
"First off, you've got give all the glory to the offensive line. They gave me like 50 years back there to throw," Williams said before explaining the line-of-scrimmage decision for the game-winning touchdown. "I like my guy over their guy. I threw a prayer, and it worked."
Navarre quarterback Kyle Chambers, supported by tailback Chris DeCorte, rallied for two scores in the second half. And with 5:56 left in the fourth quarter, the Raiders overtook the lead 13-12.
"Our kids did not quit and made it a ball game in the fourth quarter," Raider head coach Jay Walls said. "We're disappointed, and we've got to do better … and step up our preparation. We've got a good football team, and we're going to get better."
Navarre's two scores – a 10-yard pass reception to Chase Richardson and a three-yard run by quarterback Kyle Chambers – came in the fourth quarter. The Raiders normally dominant running game met a tough defense.
"On some plays we had giant holes and some plays we had defensive guys in the backfield," said DeCorte. "We've got to work as a unit to get better."
The Raiders must regroup and prepare for the Tate Aggies (1-2), who were routed by West Florida (2-0) this week.
The Panthers will meet the Gulf Breeze Dolphins (3-0) in Milton.