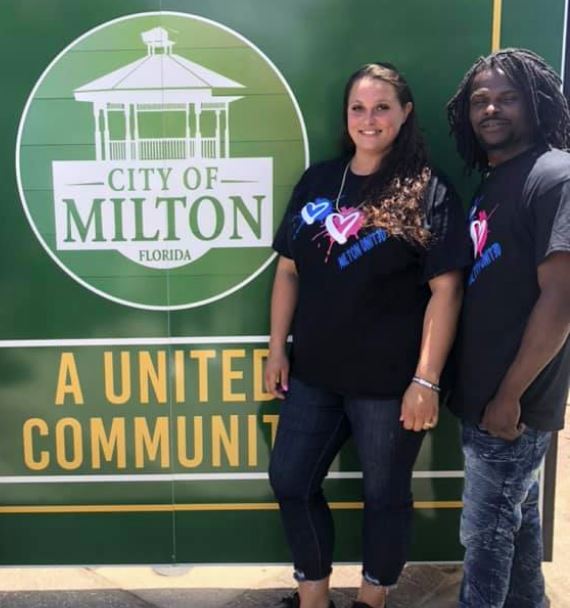 Summer Merricks with her husband, Chris, representing Milton United, a youth organization aimed to promote racial unity, at the May 2021 unveiling of the City of Milton's Milton Cube project. City of Milton photo.
Milton Police Department confirms a judge has signed a warrant for the arrest of Milton United Co-Founder Summer Merricks, following last month's street fight with Kathleen Smith, AKA Kat Slack, who is also facing arrest for the incident, which took place on Mary Street in front of a crowd which included children.
Per MPD, both women are being charged with affray, which is fighting in a public place which disturbs the peace.
The fight was broadcast live on social media by Katrisa Thomas, the wife of Devin Johns, who was shot three times September 13 on a street just outside City of Milton limits after the couple stopped their vehicle to confront Christopher Slack.
Thomas' Facebook live video shared in August shows Merricks and Smith arguing, throwing punches and pulling hair before Merricks was dragged onto the asphalt, where the fight continued with kicking and wrestling. A cheering crowd encircled the fight, which was eventually broken up by onlookers.
Merricks in an August 25 statement via Milton United's Facebook page issued an apology.
"I apologize that you all had to see this and hope that you understand this is not what Milton United represents," she said, adding "there was no serious bodily injury, no property damage and no guns or knives used."
The August fight is not Merrick's first violent offense. Her criminal history includes a 2010 arrest for battery and multiple arrests for felony probation violation along with a charge of driving while license suspended.
CLICK BELOW TO WATCH A RECORDING OF THE FIGHT (City of Milton video) WARNING! VIDEO CONTAINS VIOLENCE AND PROFANITY