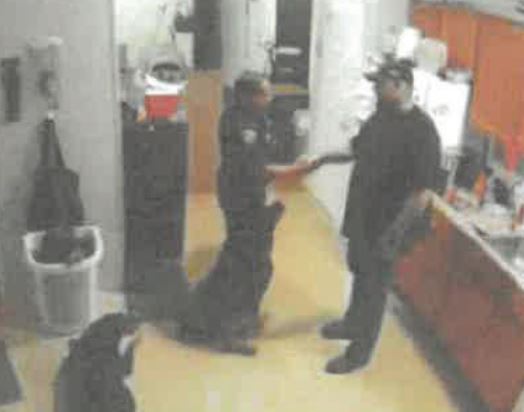 In-home video surveillance showing Deputy Pinto questioning Damien Graves. Photo courtesy Damien Graves.
A Santa Rosa County Sheriff's Office inquiry determined Deputy Felipe Pinto violated agency policy in a botched 2021 case involving a Navarre couple, who were facing felonies until the prosecutor dropped all charges after noticing video evidence against them appeared edited.
Now SRSO is facing a lawsuit from Damien Graves, a disabled veteran, and his wife, Jessica, who are trying to recover legal costs they incurred after a neighbor on an adjacent street, Kiara Gordon, accused them of stealing her missing Rottweiler, Karma.
"Hey! Karma gal got out and I haven't seen her since 9:30 this morning. If you see her please let me know," Gordon said in a November 6, 2021 text to Jessica, who replied, "Ok we will we saw what looked like a rottie this morning but couldn't get to it or know for sure. It was on Revere St. but that was early this morning like 9 am."
Gordon, who was 21 years old at the time, then called SRSO, accusing the couple of stealing her dog.
SRSO records state she used her cell phone to show Pinto one video clip from neighbor Precious Wallace's home surveillance, showing Karma in the middle of the road.
In that video, the Graves' vehicle stops, and the dog walks toward the car; however, the footage did not show what happened in the moments before the Graves' drove away.
So Pinto visited the Graves' home, where he was given consent to search the property by Damien, who owns two older Rottweilers. Damien told Pinto they had spotted Karma, a young Rottweiler, in the middle of the intersection that morning but were unsuccessful in getting her to come to them. Jessica also denied taking the dog.
Pinto showed Gordon's video to his sergeant and the district lieutenant, and the trio decided to seek felony warrants against the Graves, who were subsequently arrested November 18, 2021 and each charged with third-degree felony grand theft count as the dog was valued at $3,000.
Roughly one month later, when First Judicial Circuit Assistant State Attorney Paul Gillespie was reviewing the case for prosecution, he noticed what appeared to be a missing segment of footage – an important detail Pinto and his aforementioned supervisors had failed to notice.
So Gillespie asked Pinto to go back and obtain unedited "raw video," which clearly showed the dog running away from the Graves' vehicle before they drove off.
But it was too late. Santa Rosa County Judge Darlene Dickey had signed off on the warrant, and the couple had already been booked into jail.
In March 2022 the Graves' received official notification that the state had dropped all charges.
In August 2022, the couple decided to file a formal complaint with SRSO against Pinto, his supervisors and Deputy Daniel Burgett, who is listed as a reporting officer in their case.
A two-month internal investigation ensued, and the resulting October 24, 2022 supervisor's inquiry report stated the initial video Gordon provided to SRSO contained a "discrepancy." The report goes on to says there appears to be a "brief fast forwarding" in that video and 18 seconds of the footage was missing. Gordon denied noticing it. "All three deputies who reviewed the footage which led to the warrants being filed advised that they are not very technically proficient in surveillance camera footage."
That report also states that Gordon, who was interviewed again by police on September 9, 2022, said she had contacted the Graves and that they said they had not seen Karma, which directly contradicts the November 5, 2021 text messaging which took place between her and Jessica Graves.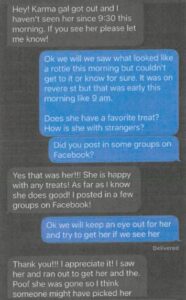 Screenshot courtesy Jessica Graves
Pinto, who was hired by SRSO in October 2019, said Gillespie told him to "not worry about any supplements" since the charges would be dropped. But not doing so was a violation of SRSO Policy J-003 (069) Completion of Reports and Documents, a Level One violation.
"(Pinto) was counseled for not following up with a supplemental report in accordance with our discipline procedure," SRSO Col. Randy Tifft told South Santa Rosa News.
"A supplement should have been made by Deputy Pinto, regardless of what was said by the (State Attorney's Office)," stated the SRSO inquiry report. "Deputy Pinto is aware that when a case is filed and evidence comes up that exonerates or substantively changes the probable cause then measures are to be taken to ensure innocent people are not arrested."
To date, Karma remains missing.