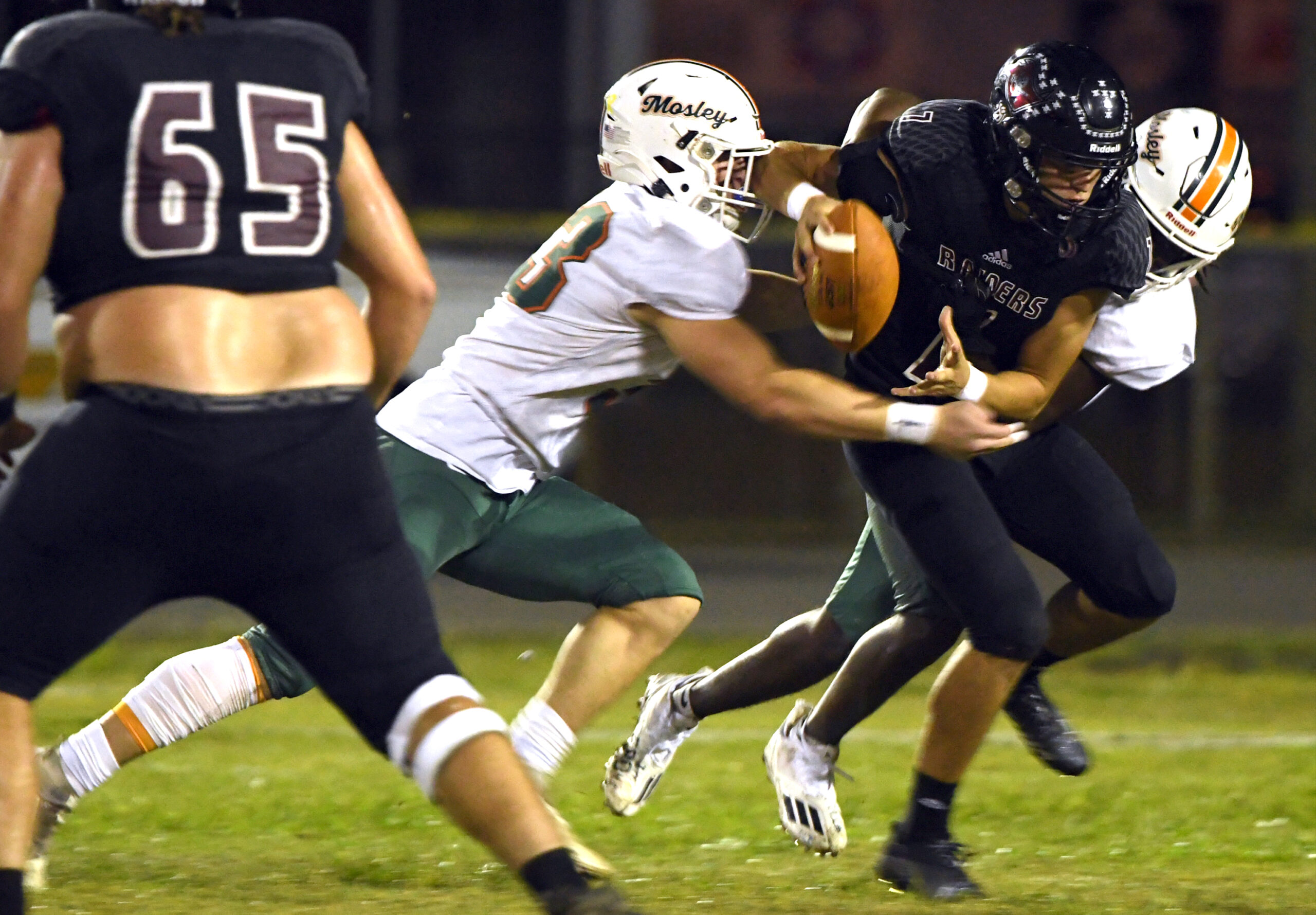 Mosley defenders converge in the backfield, trapping a scrambling Raider quarterback Kyle Chambers. Photo by Stuart Camp.
The Mosley Dolphins ran their unbeaten season record to seven games with a 30-7 victory against Navarre in Russell Stadium.
Raider defenders held Mosley to it's lowest point total of the season, as they had outscored their previous opponents 258-42 combined and averaged more than 40 points a game.
"To go on the road, and win here at Navarre is a big win for our football program," Mosley head coach Tommy Joe Whiddon said.
The Dolphins usually feature a balanced attack, led by quarterback Cole Horton. But recent heavy rains made the field soggy. So, Whiddon and his coaches adjusted the play mix to favor the running game.
"We knew we were going to have to," the coach said. "We had to impose our will on them. We knew it was going to be a sloppy environment, and we'd have to run the football and be able to stop the run."
Dolphin Josiah McCall broke away for a 30-yard scoring run in the first quarter, but Navarre engineered an 80-yard scoring drive capped by Kyle Chambers' six-yard TD run.
"We had a lot of different reads in the very beginning and mixing them up with quarterback runs, and running back runs. We had a bunch of play-action passes that left the middle of the field wide open," Raider running back Chris DeCorte said. "We've just got to make sure we stay consistent, and every single play has got to be positive."
In the second quarter, Mosley tacked up two touchdowns. The first was a three-yard, third-down plunge by Horton. The second was a pick-six, 55-yard interception return by Isaac Paul with 47 seconds left before halftime.
"I thought the first half, we played really good at times on offense," Raider coach Jay Walls said. "We had some good plays running the football, throwing the football. We got beat by a good team, which is frustrating. But our kids did compete, no doubt."
In the second half, both teams' offense bogged down in the muck. And the defenses controlled the game.
"We just didn't play consistently. They (Mosley) started controlling the line of scrimmage," Walls said.
That resulted in a lot of Dolphin defenders getting into the Raider backfield and applying pressure. Mosley pulled in two interceptions, blocked a punt, and sacked Chambers for a safety.
"I just let my instincts go to play," said Dolphin defensive lineman Jordan Whitely, who contributed to the safety as time was running out. "We wanted to come out here and make a statement and go seven-and-oh undefeated."
While Mosley looks to continue its winning streak next week against Rickards, Navarre travels to Pace for a 7:30 p.m. kickoff Oct. 15.