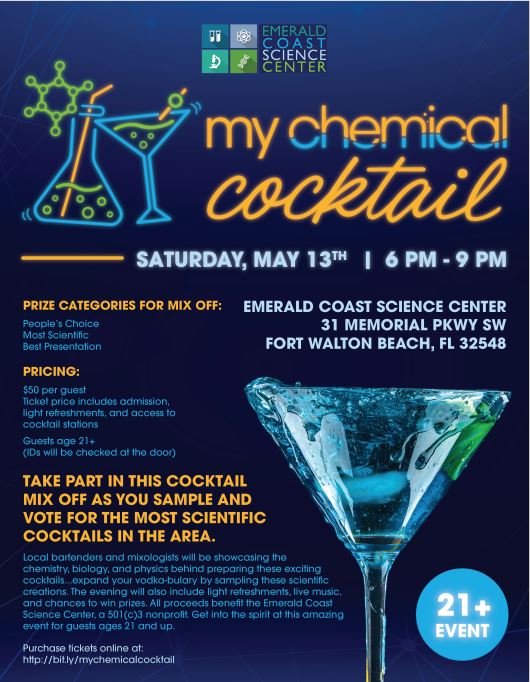 The My Chemical Cocktail event will provide a platform for local bars along the Emerald Coast to show off some of their most impressive, scientific chemical concoctions while helping raise funds for the Science Center.
The event will take place May 13, 2023 from 6-9 p.m. at the Emerald Coast Science Center (31 Memorial Pkwy SW, Fort Walton Beach, FL 32548). Guests are invited to take part in this cocktail mix off by sampling and voting for the most scientific cocktails in the area. The evening will also include light refreshments, live music, and chances to win prizes. This event is for ages 21 and up. My Chemical Cocktail tickets are being sold for $50 each and available at http://bit.ly/mychemicalcocktail.
Bars and restaurants interested in participating should contact Jacie Chandler at the listed contact information below to receive more information about sample cocktails and event specifications. The center is also looking for event sponsors. If your business is interested in supporting this event, please contact Kate Fox via kate@ecscience.org.
My Chemical Cocktail proceeds will benefit the center and its educational programming. As a 501(c)3 nonprofit, support from the community allows the center to provide programming to schools across four counties in the area—between all of the museum's different school-age programming, it reached over 15,000 students in 2021-2022. This fundraising event will help the center reach its goal to offer superior STEAM (Science, Technology, Engineering, Arts, and Mathematics) programming to the Emerald Coast by demonstrating in a fun and engaging way that science is involved in so many things around us.