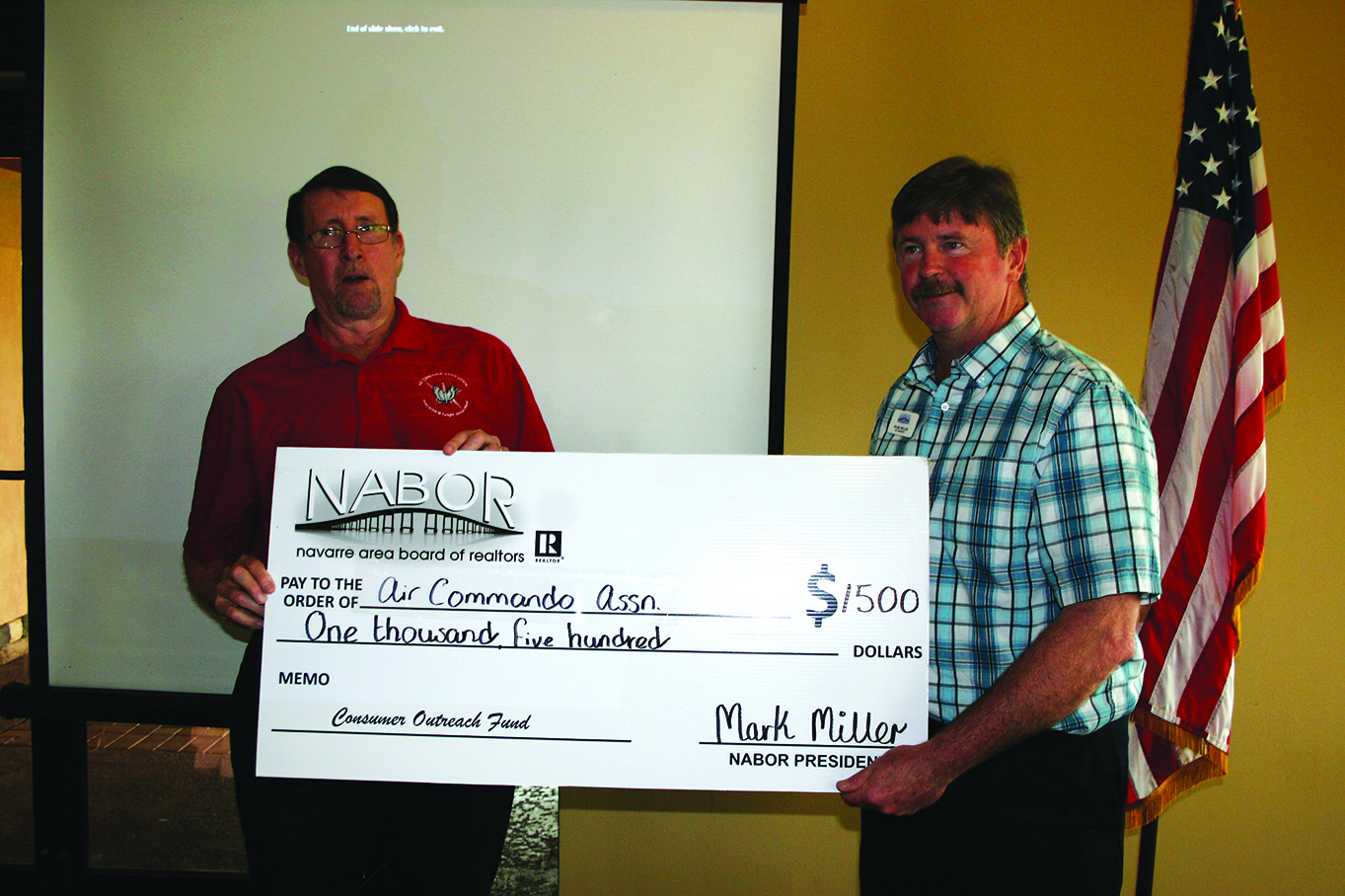 Chief Master Sergeant Greg Smith, command chief of Air Force Special Operations Command, made a special effort to return from Texas in time to attend the Navarre Area Board of Realtors' April 12 monthly luncheon at Hidden Creek.
At the luncheon, Smith applauded the fact that the area community provides support not only for military families, but the area also rallies together to help injured military men and women. Smith also thanked NABOR's financial support of the Air Commando and the Eagle Fund of the EXOS Programs, resulting from the group's April 7 annual golf tournament.
Mark Miller, president of NABOR, during the luncheon presented each charity with a $1,500 donation on behalf of his organization.
"This year we surpassed our goal, and were delighted to present checks to each charity for $1,500…that was an additional $1,000 to that which we had budgeted," said NABOR Executive Angela Campbell, pointing out a team of volunteers, led by Eric J. Musch, coordinated the event.
According to Campbell, each year the NABOR Board nominates a local recipient to benefit from the tournament donation. "Such was the support of our Affiliated business members this year, we knew going into the event that we would be able to make a sizeable donation to two charities," she said.
Campbell said that the Air Commando Association and the Eagle Fund were chosen because of the "huge" impact they have upon local military members.
"We really wanted to touch as many people as we could with the donations, and to bring awareness to our membership of the valuable work both organizations are doing on a daily basis that impacts so many within our community," Campbell said.
The Air Commando Association provides support to injured or sick airmen and their families. Additionally, the association covers travel and lodging expenses for family members attending funeral services of airmen who perish in training or operations, according to materials distributed by Barnett.
Lincoln said the EXOS Program is based at Andrews Institute in Gulf Breeze and focuses on "accelerated" return to duty for injured troops. She said to date the program has provided treatment for roughly 1,200 men and women whose prescribed therapy is not always covered under TRICARE.
NABOR has scheduled their next annual golf tournament for April 6, 2018 at The Club at Hidden Creek.
"The Navarre Community Golf Tournament is historically one of NABOR's most popular events. Always a sell-out, we attract many of the same teams year after year. The event truly has become a tradition for real estate industry professionals to come together with customers, our friends affiliated with the military, and members of the local community to enjoy a fun day out and raise money for a worthy cause," Campbell said.
Sponsorships are available. Call NABOR at 850-939-3870 for details.