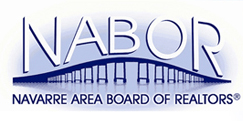 When Sheila Hale reached out to NABOR to share information on her volunteer work as treasurer of a local non-profit earlier this month, little did she expect a tidal wave of support from the professional real estate community for the charity she serves.
NABOR has long been recognized as leading supporters in the Navarre community of the military, veterans and their families. When saving rescue dogs that might otherwise be euthanized, and saving troubled post 9/11veterans wounded from Post-Traumatic Stress Disorder (PTSD), Traumatic Brain Injury (TBI) and Military Sexual Trauma (MST) were introduced to NABOR together as a cause, it was a call we couldn't refuse, and one that our members immediately embraced.
As such, NABOR is delighted to announce the adoption of "Healing Paws For Warriors" as our chosen charity for the remainder of the year.
Healing Paws for Warriors is a registered 501(c)(3) non-profit organization dedicated to providing post 9/11 combat veterans wounded from Post-Traumatic Stress Disorder (PTSD), Traumatic Brain Injury (TBI) and Military Sexual Trauma (MST) rescue-to-trained ADA certified service dogs.
The dogs come only from local rescues. The service dog trainer teaches the dogs and the veterans as a team. The dogs are not pets, they are service dogs with the complete protection and rights granted by the American with Disabilities Act.
The organization is devoted to pairing and training service dogs with veterans at no cost for the veteran to enroll.
Their goal is to bring awareness to veteran suicide; reducing the numbers one dog at a time.
They also aim to give hope and healing to veterans and rescue dogs through empowering military heroes to return to civilian life with dignity and independence and express gratitude to those who have served, or are serving our great country.
They also reduce the number of companion animals in shelters; ending pet homelessness.
NABOR has made a sizable donation to the organization, but in addition is asking all members…. Realtors, lenders, title and insurance agents, home inspectors….literally anyone involved that makes the closing possible, to donate just $10 per transaction for the next few months.
Mike Arena, a former special operations combat medic who served 23 years and numerous deployments, was diagnosed with post-traumatic stress disorder and traumatic brain injury. When retired, he found himself in a dark hole. During this time, Mike's internal flame for living was diminishing. Faced with limited options, he learned of the program that paired service dogs with veterans and shortly after graduated from the program; regaining his smile along wish this K9 partner, (named Orion). Mike (who now serves as Healing Paws of Warriors' vice president) and Orion were guests of honor at NABOR's May Military Appreciation Membership Luncheon to hear the Realtor organization announce its patronage of the charity that he credits with saving his life.
Members also heard from Tony Hughes, President and CEO of Beach Community Bank and a member of the Chief Staff of the Air Force's Civic Leader Program who spoke to the Air Force's global capabilities and the individual valor of several local airmen.
"As professionals, we're keenly aware that many of the transactions that we make our living from are as a direct result of our military community. Too many of our brave warriors leave Service either physically or mentally wounded having witnessed the atrocities of war. Just because they don't wear the uniform any longer, doesn't mean the scars of battle, visible or not, are healed," said NABOR President Amity Nowling. "We're not asking for big monetary donations, although we'll certainly take them…we're just asking that our members reach into their hearts and wallets and share, what, in reality is the cost of lunch, to help not only last-chance shelter dogs, but a service member in need."
As part of their community outreach program, NABOR also presented checks in support of the Air Force Enlisted Village and the Navarre Beach Marine Science Center.
"With Tony's presentation ending on a local note, it really brought home to the audience that these are our neighbors; ordinary folks who are doing extraordinarily brave things…. and that when they need us, it's our duty and honor to be there for them," Nowling said.
To learn more about Healing Paws For Warriors, please visit: www.healingpawsforwarriors.org/.
To locate a Navarre Realtor specialist, visit www.navarrehomesonline.com.