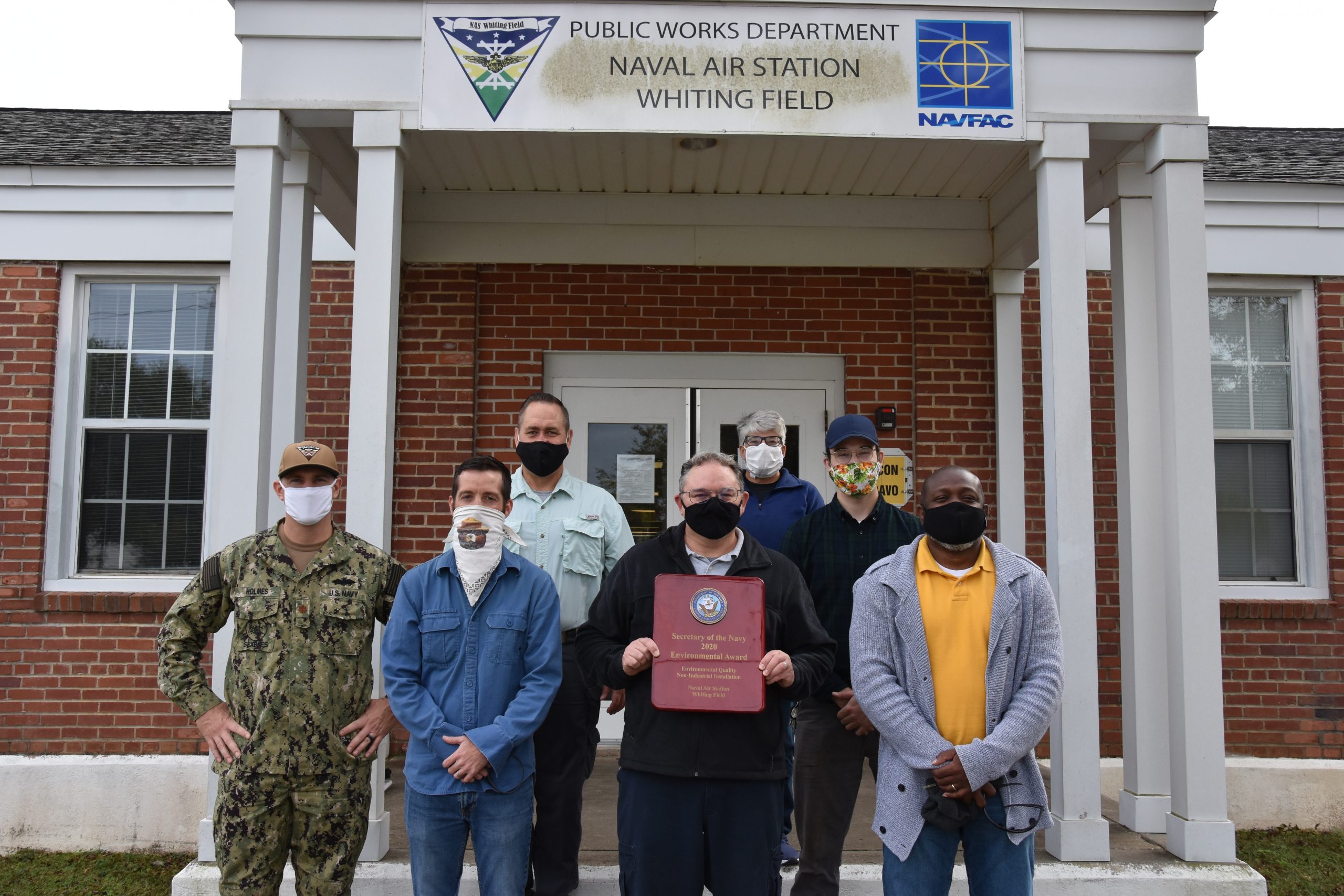 The Florida Department of Environmental Protection recently recognized the Naval Air Station Whiting Field Public Works Environmental team (shown in the photo) for the installation's exceptional achievements that prevent or reduce impacts on the environment. (left to right: Public Works Officer Lt. Cmdr. Brian Holmes, Jon Stewart, Jeff Kissler, Charles Egri, Christina Malitz, Sean Foote, and Aaron Mitchell. Not shown, Brooke Boyd—this photo was taken in December for a Secretary of the Navy Environmental Award they received earlier in 2020). (Photo by Julie Ziegenhorn, NAS Whiting Field Public Affairs Officer)
The Florida Department of Environmental Protection, Northwest District, recognized Naval Air Station Whiting Field with the Outstanding Environmental Stewardship award in early January.
The environmental stewardship award program recognizes businesses, professional and community organizations, and local governments within DEP's Northwest District for proactive, innovative, and exceptional achievements that prevent or reduce impacts on the environment beyond measures that are required by permit or rules. To be considered for recognition, participants must demonstrate significant and measurable achievements above and beyond what is required by law.
"NAS Whiting Field, like all installations, faces challenges. But it's good to know that we are evaluated on our response to those challenges, and that we maintain excellent partnerships with the state and local communities to enable our efforts," said Jeff Kissler, NAS Whiting Field Installation Environmental Program Director.
Whiting Field was recognized for several initiatives such as using prescribed burning to maintain and enhance habitat health, prevent wildfires and control invasive species. During fiscal year 2019, nearly 1,500 acres were managed through prescribed fire to aid in habitat recovery, training and the revitalization of rare and endangered species such as the Reticulated Flatwoods Salamander and Gopher Tortoise.
The installation environmental team also conducts annual inventory investigations for the Gopher Tortoise and their burrow habitats at the main base and its 12 outlying landing fields in Alabama and Northwest Florida.
Additionally, the FDEP recognized the installation's water conservation measures, which resulted in a nearly 25 percent reduction of water use during FY 2019. Decreasing irrigation, water leak detections and repairs, and highlighting water conservation throughout the installation led to the significant reduction.
The specific district, Northwest District in which the competition was based, runs from Escambia County to Jefferson County, and is one of six Florida districts.
The Public Works team onboard NAS Whiting Field has earned several environmental awards recently to include: the Chief of Naval Operations Award for Environmental Quality for a Non-Industrial Installation; Community Service Environmental Stewardship Award Medium Shore-Honorable Mention; and the Secretary of the Navy 2018 Energy Excellence Award in the Navy Small Shore category.
"This most recent recognition from the Florida Department of Environmental Protection, the Outstanding Environmental Stewardship award, is a testament to the hard work and dedication of our entire Environmental Team that includes critical collaboration with the Energy, Utilities and other staff at the base and regional level. They strive each and every day to support the important aviation training mission here at Whiting Field, while maintaining a healthy environment for all who work here. Congratulations to each of our Environmental Team members– this is well-deserved," said NAS Whiting Field Public Works Officer, Lt. Cmdr. Brian Holmes.