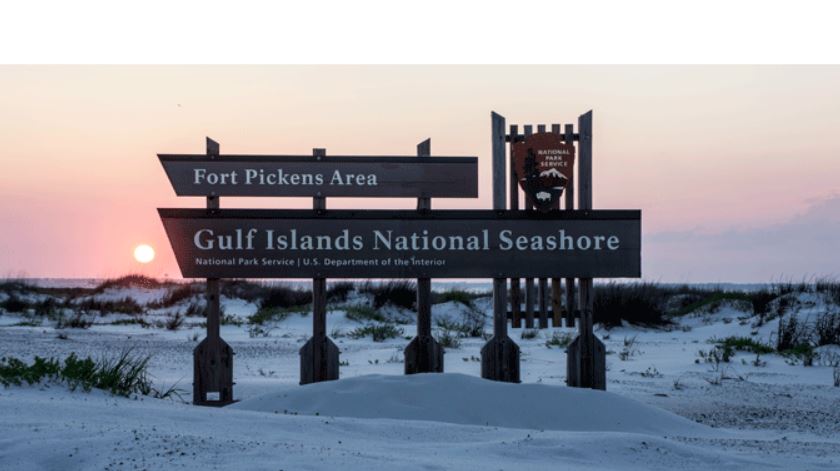 Beginning February 1, Gulf Islands National Seashore will begin enforcing maximum Recreational Vehicle (RV)/trailer length and height limits for all campsites in the Fort Pickens Campground in Florida and the Davis Bayou Campground in Mississippi.
While campsite length limits have been in place for a long time, a new height restriction of 12-feet for the Fort Pickens Campground Loop A has been instituted due to tree growth over the roadway. The maximum lengths at each campsite vary depending on the size of the parking pavement. Visitors can verify the campsite length on recreation.gov (Recreation.gov – Camping, Cabins, RVs, Permits, Passes & More). Reservations for vehicles exceeding the campsite size limits will be canceled by campground staff on-site.
"The current limits in place will be enforced for the safety and protection of the park, and visitor property," said Darrell Echols, Gulf Islands superintendent. "In 2021, Gulf Islands National Seashore saw an increase in incidents resulting in damage to park resources and visitor's property. The enforcement of these restrictions is expected to reduce these incidents. Visitors are encouraged to review the published limits for campsites when making their reservations on recreation.gov"
Two vehicles are permitted at each a campsite, this includes RVs/trailers, due to the limited pavement available for parking and turning around. All vehicles are required to back into the site with all four tires parked on the pavement. Vehicles are not permitted to park sideways or in the grass at campsites. If a vehicle cannot be backed into the site, it will be required to be moved to one of several campground overflow parking lots.
The National Park Service is entrusted with caring and preserving unique natural and cultural treasures for future generations. This change will improve the balance between continued access to the campground for overnight visitors and preservation of the park's natural and cultural resources.
For more information visit https://www.nps.gov/guis/planyourvisit/eatingsleeping.htm