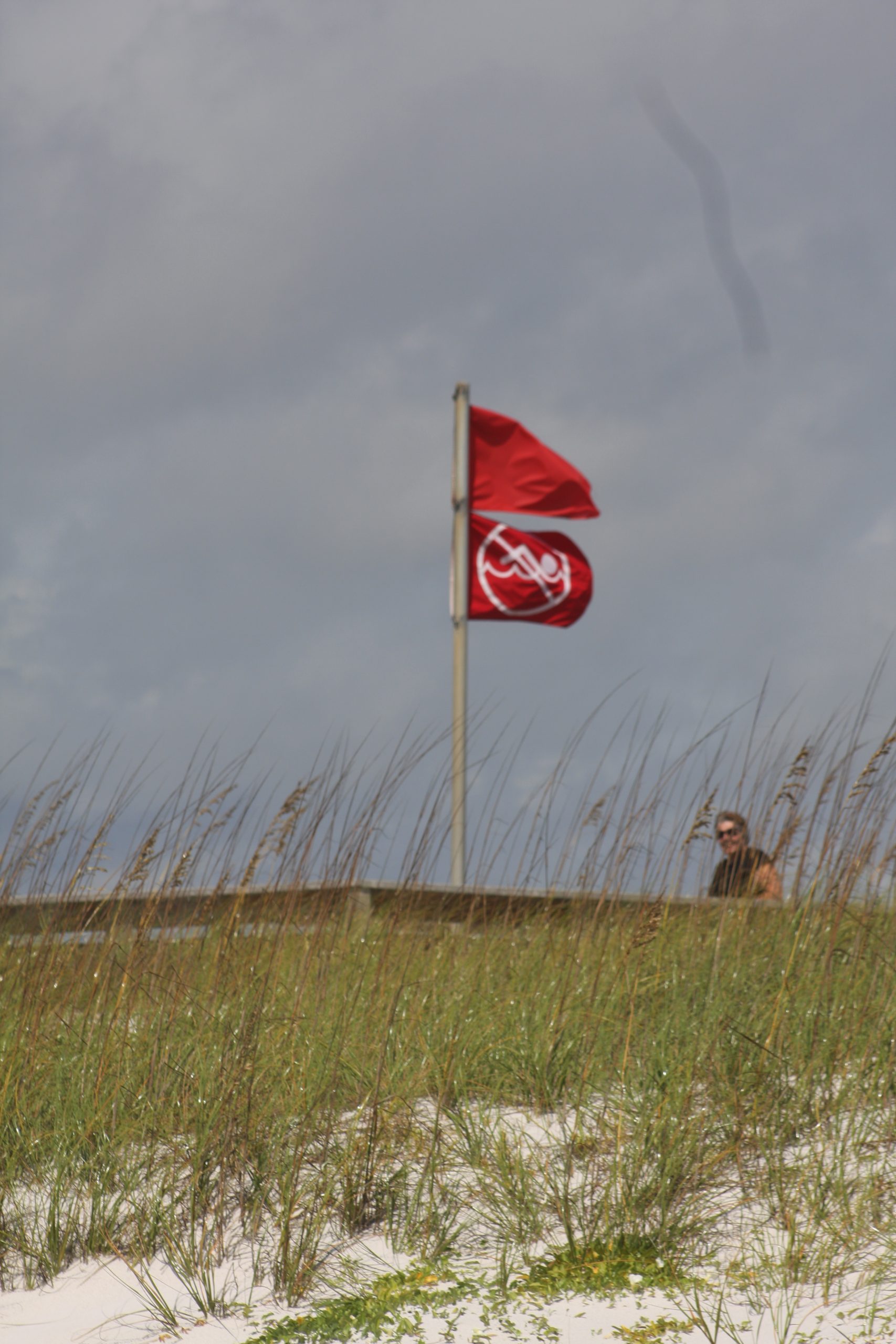 A prolonged, potentially historic flooding event is becoming increasingly likely
Hurricane Sally's track continues to shift east and additional shifts are still possible.
A Tropical Storm Warning has been expanded into all of Santa Rosa County.
Surge forecast increased to around 3 feet possible from Pensacola to Navarre. Values may be increased slightly more later today if an additional eastward shift occurs.
A Flash Flood Watch remains in effect for the entire area.
Storm Surge Warning is in effect along the Alabama Coast, and a Coastal Flood Advisory is in effect for the western Florida panhandle coast (but may have to be upgraded to a Storm Surge Warning later today).
Tropical storm force gusts will begin to spread along the immediate coastal areas this afternoon and will spread inland tonight with the rain bands.
Sustained tropical storm force winds are possible Tuesday into Wednesday morning, especially along the immediate coast. Inland areas will see frequent tropical storm gusts at the very least with the intense rain bands. Gusts up to 50 mph possible. Tropical storm conditions may not subside until Wednesday night.
There is a threat of a few tornadoes across the southern half of the area by this evening.The tornado threat will likely expand inland later tonight through Wednesday.
Very dangerous rainfall and a potentially historic flooding event is possible.
Locally 10-15″ of rain is possible in the south and east parts of the county (Gulf Breeze, Midway, Holley, Navarre, Garcon, Pace) with eight to 10″ in the remainder of the county with exception of six to eight in the northeast section of the county in the Munson area.
Residents on Blackwater River, Coldwater Creek and Pond Creek need to make preparations and plans to move to higher ground.
Do not park your vehicle in a low-lying area overnight.
Expect that roads and bridges which typically flood will flood. Turn around, don't drown. It is not possible to determine if a flooded roadway is covering a potentially deadly washout.
Bridges that typically flood include:
Deaton Bridge/Deaton Bridge Road
Wagner Bridge/East Fork Coldwater Creek/Spring Hill Road
Red Rock Bridge/Juniper Creek/Red Rock Road
Juniper Creek Bridge/Indian Ford Road
West Fork Big Coldwater Creek Bridge/Walling Road
Turkey Creek Bridge/Amos Cabaniss Road
Public works crews are monitoring for flooding and will barricade flooded roads and bridges as needed. Do not drive around or move any barricades.
View closed roads here.
No evacuations are anticipated at this time. However, you should always know your zone. Visit Santa Rosa County's Know Your Zone app for evacuation zone information.
The Citizens Information Line is open, call 850-983-INFO (4636) for questions.
The next full update will be this evening after 6 p.m.
Bridges
No bridges are closed nor are any bridges planned to be closed in advance. Bridges ONLY close when sustained tropical storm force winds are observed by officials. If one bridge closes, it does not mean all bridges will close.
Board of County Commission Offices
Emergency Management is activated at a Level II for Hurricane Sally.
All county offices including the tax collector, supervisor of elections, clerk of court and property appraiser will close Tues., Sept. 15.
All BOCC employees who can work virtually will continue to do so. All essential BOCC employees will report to duty.
The FY21 Tentative Budget Meeting for Tues., Sept. 15 will be held virtually.
COVID Testing
COVID testing at Tiger Point Community Center will be closed Tues., Sept. 15.
Determinations on Wednesday's Milton Community Center testing site will be made tomorrow.
General Preparedness Information
Stay informed! Sign up for emergency alerts at www.AlertSantaRosa.com.
Make sure you and your family have a plan for where you will live in a low-lying area and need to evacuate your home – and make sure your plan includes your pets.
With the chance of tropical storm force winds, bring in or secure items which could blow away including lawn furniture, wind chimes, swings and bird feeders while it is not raining.
Sandbags are available at area Lowe's, Ace Hardware and Hall's Hardware. Bring your own sandbags and shovel. Sand for sandbags is on a first-come, first-serve basis at the following locations:
– The corner of Leisure St. and Citrus Dr. in Navarre
– Tiger Point Park in Gulf Breeze
– Pace Fire-Rescue in Pace
– The corner of Pine Forest Rd. and Carroll Rd. in Milton
– Crews will continue to monitor and replenish sand as weather permits.
For current weather events, visit www.weather.gov/mob. For information on preparing for disasters, visit www.santarosa.fl.gov/emergency.
---
Central Landfill/Waste Haulers
Central Landfill will close Tues., Sept. 15. Any decisions on Wed., Sept. 16 will be announced later.
Waste haulers ECUA and Waste Pro will not pick up on Tues., Sept. 15. Contact your waste hauler for schedule adjustments.
---
Navarre pier will close at 2 p.m. today and reopen once conditions allow.
---
Santa Rosa County School District
Per the Santa Rosa County School District, all Santa Rosa County public schools are closed tomorrow, Tues., Sept. 15. Any decisions on Wed., Sept. 16 will be announced later.
---
Carpenters Park Splash Pad is closed in preparation for the storm.
Flooding is expected along the riverbank, so motorists are urged to use caution along Munson Hwy, Broad and Willing streets.
The city will monitor the situation to determine if further action is needed for parks and facilities.
---
COA's social services department is calling all clients in high-risk areas to advise them of options and determine their readiness for the storm.
The Retreat adult day care will be closed through Wed., Sept. 16.
Pre-packaged to-go meals distributed from churches and community centers in Santa Rosa will cease operation Tues., Sept. 15 and resume Wed., Sept. 16.
Meals on Wheels will also be suspended Tues., Sept. 15. Individuals scheduled to receive meals on Tues. will receive their meals on Wednesday.
To mitigate the risk caused by missed meal-delivery, many high-risk individuals were given shelf-stable, long-lasting meals at the start of hurricane season.
For questions on Council on Aging programs and services, call (850) 432-1475.
---
Gulf Islands National Seashore
Opal Beach will remain closed until further notice.
Highway 399, J. Earle Bowden Way will remain closed until further notice.
Park staff will assess conditions once the weather passes and throughout the next few days and announce updates as appropriate.