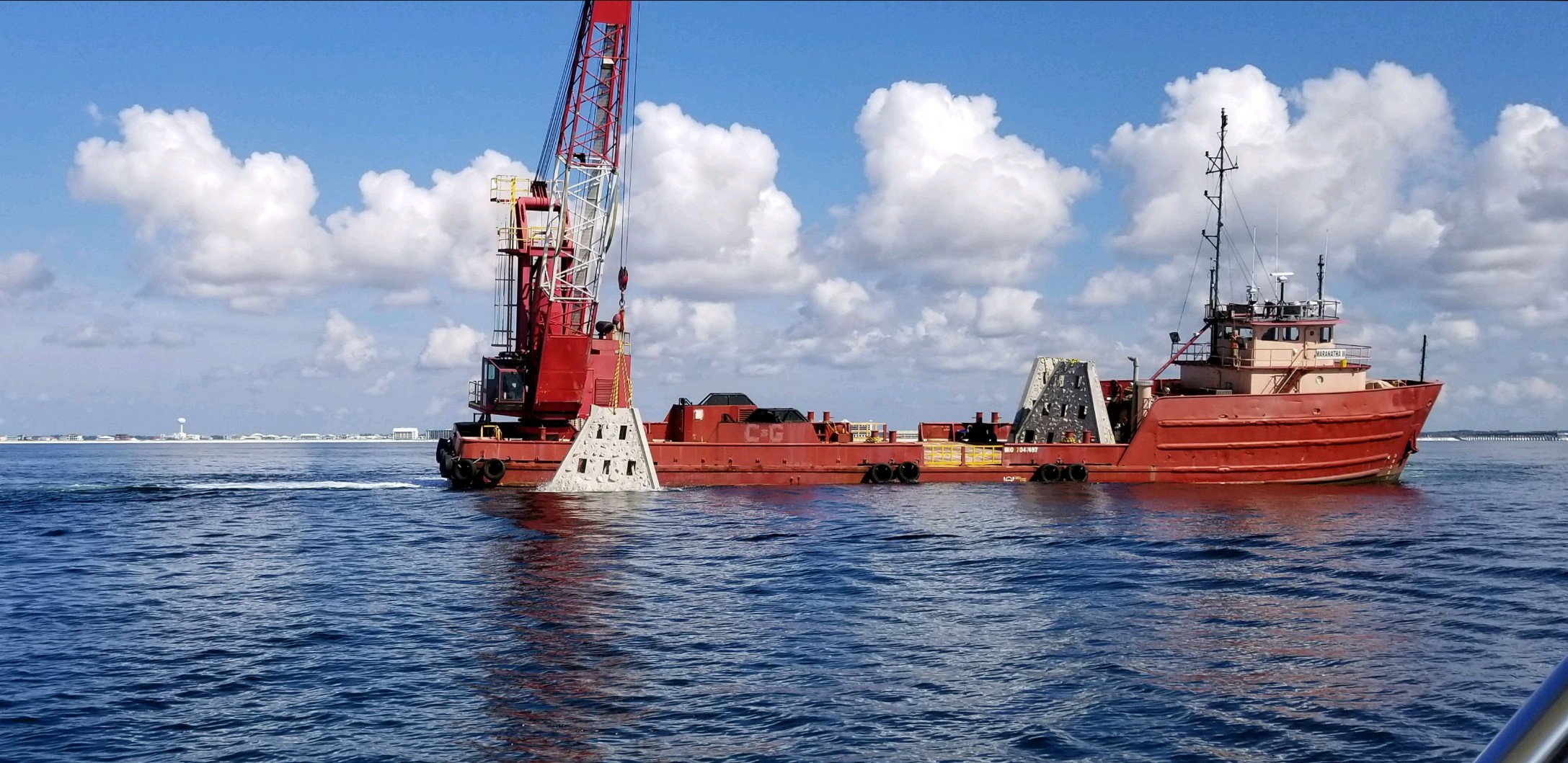 Photo from September 8 deployment courtesy Captain Gary's Gulf Diver
Navarre Beach is a step closer to completion of its deepwater artifical reefs. The second deployment, installing 12 "super reef" structures, was completed September 8 at a site roughly one mile south of Navarre Beach Fishing Pier.
"It's great news," said Bob Boston, who has been working with county officials for years to help secure funding for the project. "This is important as we try to increase the reef square footage and build up a food base for the reef fish," he said, noting the expansion project is presently one month ahead of schedule.
Currently there are existing artificial reefs located just offshore at Navarre Beach Marine Park — in both the Sound and Gulf.
James Broxson, owner of Broxson Outdoors, said the existing reefs have not only increased the demand for snorkeling and kayak fishing gear but helped boost ecotourism for the area. "The expansion will draw people from all over the Southeast," Broxson said.
Boston said last weekend's successful second deployment included the installation of a dozen 15-foot tetrahedron "super reefs" in a permitted artificial reef area which will eventually play host to more than 500 modules within 27 individual or "patch" reef sites.
"Navarre's Super Reefs are 15 feet tall with a fairly large hole in the top. Inside is a fish haven platter system, which is much like the platters in the snorkeling reefs. We'll see if this is enough relief for Amberjacks, Almaco and other relief sensitive fish," Boston said.
The reef expansion project will also feature 8-foot tetrahedron pyramids and 6-foot ledge and disk modules, known as "grouper boxes," per Santa Rosa County.
Reef deployment is being handled by Walter Marine, a contractor based in Orange Beach, Alabama.
The $1.2-million project was funded via Natural Resource Damage Assessment (NRDA) Early Restoration funds from the 2010 Deepwater Horizon Oil Spill, and completion is expected in December — or before.