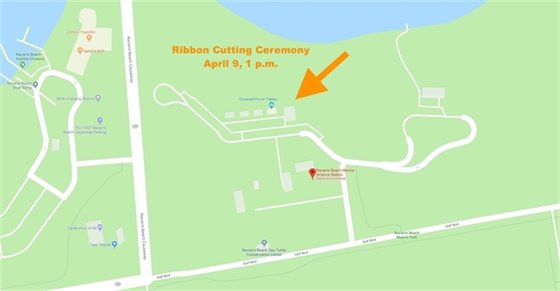 Just in time for beach weather, much-anticipated ADA-friendly improvements in Navarre Beach Marine Park are nearly complete! The Santa Rosa County Board of County Commissioners along with representatives from the Florida Department of Environmental Protection invite the public to join them for a ribbon-cutting for the sound side boardwalk enhancements, on Tues., Apr. 9 at 1 p.m. in the park pavilion located behind the Navarre Beach Marine Science Station, 8638 Blue Heron Court. The sound side improvements are the first of two beach enhancement projects at the Navarre Beach Marine Park. Additions include:
Two ADA-accessible boardwalks connecting to existing parking/pavilion areas on the east and west ends of the sound side recreation areas.
An ADA accessible kayak launch with access boardwalk located in the center of the sound side park.
Signage to alert kayakers and paddle boarders to avoid shorebird habitats (to be installed within a month).
An additional acre of planted dune vegetation.
"The sound side boardwalks are a great addition to the overall beach experience," said Commissioner Dave Piech, District 5. "I'm thankful to the state and our county staff for working so hard to bring this project to reality. It protects our precious resources while allowing visitors to experience the beauty of the Navarre Beach Marine Park."
Construction costs for the sound side improvements are $454,687 with funding provided from the Deepwater Horizon Program NRDA Early Restoration Program Phase III. Genesis | Halff has served as consultant for the project and Decks N Such Marine, Inc. as contractor. Both projects are being implemented by the Florida Department of Environmental Protection, Division of Water Restoration Assistance, Deepwater Horizon Program, and managed by Pearce Barrett, P.E.
Additional improvements to the gulf side of the park should be completed within a month and include a new parking area, a beach access boardwalk with showers, a restroom pavilion, one large and two smaller pavilions with picnic tables and grills, and an observation platform.