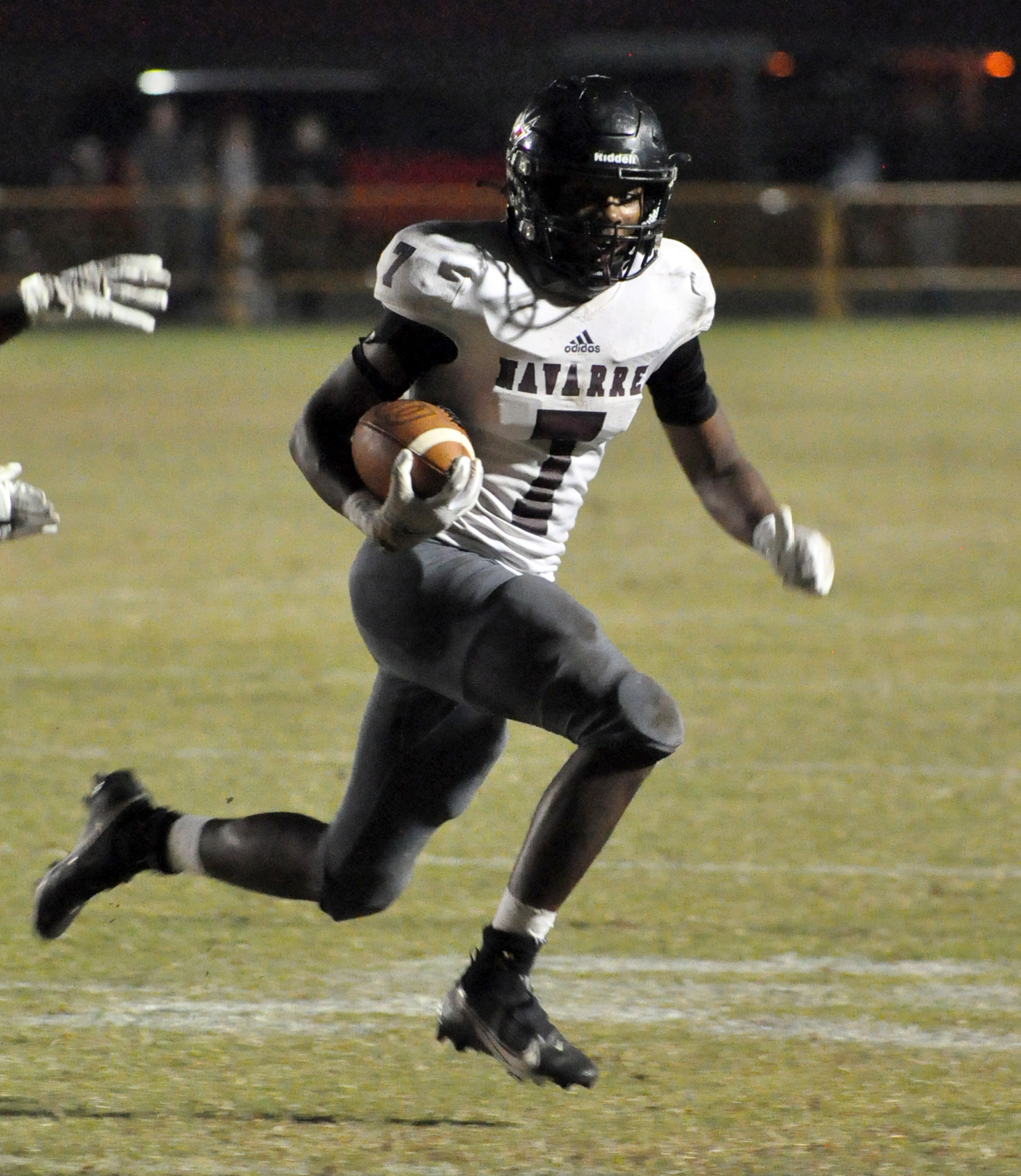 The Raiders capped its regular season with a 30-13 win over Crestview last week. They drew a first-round bye and home-field advantage in the 7A regional playoffs. So, they will face the victor from the Creekside Knights (5-3) vs. Buchholz Bobcats (6-1) game slated for Nov. 20.
This is a return to the postseason which eluded Navarre in 2019.
"I'm excited about being in the playoffs, for sure," said head coach Jay Walls. "It's do or die. I hope we stay hungry."
Buchholz dominated Creekside, 49-27, Oct. 30. Either way, it'll be a long trip for either team coming to the Panhandle from Gainesville for the Bobcats, or the Jacksonville-area for the Knights.
If Navarre wins that game, they may face local foe, Niceville, Nov. 27. They should've met in a clash of unbeatens Oct. 16, but the Raiders cancelled due to COVID-19 exposure and isolations. To make that happen, the Eagles (7-0) must dispatch Crestview (1-6) in the first round Friday (Nov. 13) and overcome the Leon Lions (1-3) the following week.
If chips fall that direction, then it's another trip to Niceville for the Raiders and their fans.
Navarre's win in Crestview clinched an undefeated regular season, but it was not a rout. Comparatively, Niceville destroyed the Bulldogs, 56-14, a month ago.
"We did not click like we should," said coach Tony Carter, who thought the Raiders' could've pinned more than 50 points on the scoreboard against Crestview.
In his post-game interview, Walls said, "We left a lot of points out on the field."
Except for one play, the starting defense pitched a shutout. Crestview quarterback Marquis McCoy bolted around the left sideline for a 70-yard score in the second quarter, but the game was already secure.
Yet again, Grady Kelly led the defensive effort. He notched a sack, a strip, and two batted passes and multiple tackles to preserve the Raiders' advantage to where developing players could get some reps in the game in the fourth quarter.
"I was able to constantly find the quarterback in the backfield. I was able to get down the line and make plays," the senior said. "It's probably one of my top games, and that's a great feeling to finish the (regular) season off like that."
The offense seemed to stay on-stride with the running attack. Jaden Rivera scored twice in the first half as Navarre built up a 21-0 lead. Trent Hall scored a pair of touchdowns on passing plays.
Senior right guard Preston Brewer said, "We came out really strong, then as the game progressed, we started making mental mistakes."
Kicker Preston Penton knocked through a 41-yard field goal in the fourth quarter to cap Navarre's scoring.
The Raiders continue with a two-quarterback rotation between seniors Jason Deal and Zach Marquis.
"They're making some big plays, but we've gotta get a little bit more consistent catching the football: Walls said. "It's everybody. We've got to be a little bit better with our protection. We need to be better at quarterback being consistent with our throws. Receivers just gotta keep working hard. We've got guys open and opportunities to make more plays."
Marquis said his best toss was the corner route to Hall, but that the passing game continues to gain confidence even at this stage of the season.
"I know the receivers are going to get there. I know my o-line is going to get it done. I just need to make the right read and put it in the right spot," Marquis said. "Right before the half, I make some shaky reads, but we're building on it."